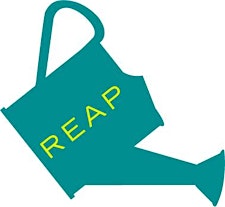 REAP Business Association
REAP stands for Respect for the Earth and All People. 

We're a not-for-profit association for locally owned businesses that care about the community and the environment.
We help Calgarians to live, shop and be local.
REAP businesses are demonstrating that business can make a profit while contributing to healthy and prosperous communities. By choosing them instead of chain stores and restaurants you are supporting things that benefit us all:
               renewable energy in Alberta, 
               reducing the amount of waste sent to Calgary landfills,
               ensuring Calgary workers are paid a Living Wage,
               creating Community Orchards in neighbourhoods where people can't
               afford fresh fruit, 
               and keeping more money with Calgary businesses and non-profits
               where it can do more good.
Sorry, there are no upcoming events