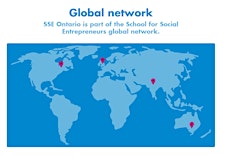 School for Social Entrepreneurs Canada
We help people change, for good.
Founded in 1997 in London, England, the School for Social Entrepreneurs (SSE) was created to assist everyday people in launching a social purpose business, non-profit organization, cooperative, or social venture for the benefit of their community. SSE Canada is a community of grassroots leaders from all walks of life collaborating to advance social and environmental change, leveraging the tools of business.
Sorry, there are no upcoming events