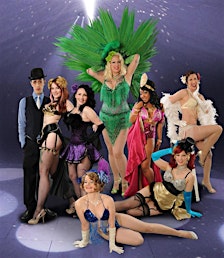 Skin Tight Outta Sight Rebel Burlesque
Canada's Outlaw Strippers since 1998, Skin Tight Outta Sight are now the longest running neo-burlesque troupe in the world. They are the original troupe of Toronto, paving the way for burlesque to explode to what we see today. They are known for developing the local burlesque scene with The Toronto Burlesque and Vaudeville Alliance, founding The Toronto Burlesque Festival and being the first Canadians to compete at the coveted "Miss Exotic World/ Burlesque Hall of Fame" Pageant. They were honoured to be included in the UK's Bizarre Magazine as one of the top ten burlesque acts on the planet. Internationally renowned, the troupe consists of Tanya Cheex (Founder/Artistic Director), Sauci Calla Horra (Producer), CoCo La Creme, Honey B. Hind, Foxy Finale, Aviva the Mirage, Laura Desiree, Dolly Berlin, and the mysterious artist and host, "SMB."
Skin Tight Outta Sight are frequent collaborators with Boylesque TO, Canada's Premiere All-Male Burlesque Troupe, co-producing their Valentine's Shows with them since 2010. You can also catch them around town, producing, performing and DJ-ing for "Pussy Whipped Wednesdays" at The Bovine Sex Club, dancing bar top at The Painted Lady and performing or hosting for Sinful Sundays at Cherry Cola's.
Sorry, there are no upcoming events