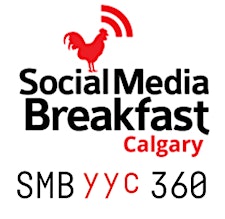 SMByyc Team
SMByyc Host Committee
About SMByyc 
360 is total immersion. What you came to love from SMByyc, you are going to love with our brand new 360 version! As we learn, in this immersive place that isn't even fully built yet, we are waiting for technology. We are at the forefront of merging realities and we are going to learn right along with everyone else. Get ready to leave our events charged with new ideas and new tech discoveries that propel your businesses and non-profits towards the the future of everything.
 Special THANKS to our ongoing event sponsors for their continued support of Social Media Breakfast…
Equipment Sponsor:  
Matrix Video Communications
(403) 640-4490
matrixvideocom.com
@MatrixVideoMVCC 
Sponsor:  
Pressed OH
Rob Rondinelli & Andrea Langmo
info@thebigoh.ca
http://www.thebigoh.ca
@PressedOH  
Sponsor:  
Christy Turner Photography
Christy Turner
info@thebigoh.ca
facebook.com/christyturnerphotography/
@aurorachaseryyc  
Sponsor:  
Dialog Loop
Dinesh Advani
dinesh@dialogloop.com
http://dialogloop.com
@dialogloop  
Co-Founder:  KAOS
Donna McTaggart
donnamct@kaosbiz.com
kaosbiz.com/
@donnamct   |   @kaosbiz

Interested in Sponsoring a Social Media Breakfast?
For reasonable fee your organization can get some fantastic exposure at the events and online.  It is an inexpensive way to get quality back links to your social networks.
About SMByyc
The SMBYYC houses an open environment to share today's best and worst examples of social media, as practiced by individuals, industries and organizations in Calgary and around the world. Guest speakers share their experience and expertise of social media use, followed by an opportunity to network with a community of like-minded individuals.
Please follow @SMByyc. This will allow you to connect with all Calgary Social Media Breakfast followers.
SMByyc Team Members:
Donna McTaggart: @donnamct
Debbie Laval: @lolaDLaval
Kelly Hipkin: @KellyHipkin
Art Proctor: @ajproc
Sam Rafoss: @SamRafoss
Victoria Bennett: @VikiBennett
Boris Vujanovic: @bvujanov
To add your name to mailing list:
Please visit our website at smbyyc.com
(You will receive email with a link to the SMByyc Press Release to RSVP) 
For more information, contact:
Donna McTaggart @SMByyc
donnamc@kaos-consulting.com
Sorry, there are no upcoming events