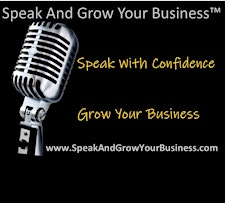 Speak And Grow Your Business

Speak and Grow Your Business™ is the art and science of using speaking as a marketing strategy to stand-out in the crowded marketplace, increase your visibility, credibility, brand awareness and attract more clients.
The foundation for our comprehensive workshops and coaching programs is The Entrepreneurial Speaking Solution™, which provides world-class speaking strategies and techniques; helping 100s of entrepreneurs each year to craft their unique messages, signature stories and profitable presentations for the marketplace.

Our mission is to empower 100,000 entrepreneurs to speak and grow their business.

"When You Speak and Grow, the Cash will Flow™"
Symposium Cafe Restaurant & Lounge • Ajax, ON
$20