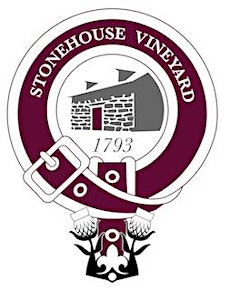 Stonehouse Vineyard
On land settled by the MacMillan family in 1973, Stonehouse Vineyard is proudly growing, producing and bottling cold climate wines in "Ontario's Celtic Heartland", "Where Ontario Began".
In addition to a beautiful stone house, a large timber and beam barn is a prominent feature on the property and provides scenic views of the surrounding vineyard and farmlands. The barn has been renovated to pay homage to the Scottish history of the property and region and is the site of our winery, retail outlet and tasting venues. 
Our wines begin with attentive viticultural practices applied throughout the growing season ending with hand harvesting with care to ensure only the highest quality grapes are processed.  Following harvest, we use gentle methods to process our grapes to produce our handcrafted wines.  We are proud of our wines and look forward to sharing them with you. 
From Our Glen to Your Glass!