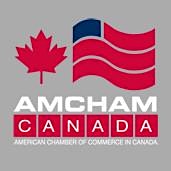 The American Chamber of Commerce in Canada
The American Chamber of Commerce in Canada (AmCham Canada) is a private, non-profit, membership organization that promotes the two-way flow of trade, goods, services and investment between Canada and the United States.
AmCham Canada with seven chapters located throughout Canada is committed to promoting trade opportunities, advancing economic growth, and facilitating the mobility of people, goods and services across the longest undefended border in the world. AmCham Canada continually strives to promote and foster a positive climate for commerce, trade and investment between the United States and Canada, as well as positive working environment among the business people and professional who facilitate and strengthen economic ties between the two countries.
AmCham Canada is a proud member of the United States Chamber of Commerce. The largest global and international business organization in the world. With affiliates located in over 112 countries, The U. S. Chamber is recognized around the globe as a business leader for trade and commerce and from the United States.
Sorry, there are no upcoming events