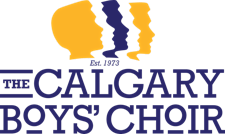 The Calgary Boys' Choir
Boys should be seen... and heard!
Since 1973, the Calgary Boys' Choir has empowered boys and young men to use their own voice, raised together in song. Our founder, Douglas Parnham, had a vision to train young men with character who are generous with their gifts in their respective communities.
Members of the Calgary Boys' Choir have delighted music lovers with their beautiful tone and clear, pure sound, bringing the choir critical and public acclaim. Our choir not only enriches the lives of its members and Calgarians, but brings the music of Calgary's youth to the entire world.
The Calgary Boys' Choir provides superior musical training and performance opportunities for boys in grades kindergarten and up. We nurture and present excellence in music. Through discipline and performance in a team environment, we strive to promote positive values such as creativity, leadership and self-discipline. We believe in making our programs available to all talented boys, regardless of financial means.
Sorry, there are no upcoming events