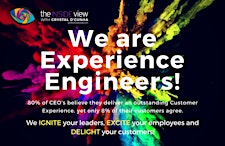 the INSIDE View Inc.
We are Experience Engineers!
We IGNITE your leaders, EXCITE your employees and DELIGHT your customers!
We inspire Leaders to design dynamic team environments and engineer epic customer experiences to achieve MAXIMUM PROFITABILITY & OUTSTANDING BUSINESS GROWTH! 
Why We Do What We Do
There is only one boss, the CUSTOMER, and he can fire everybody in the company from the chairman on down, simply by spending his money somewhere else! - Sam Walton 
In today's Experience Economy, 80% of CEOs believe they deliver an outstanding Customer Experience, yet only 8% of their customers agree.
In 2008, if an employee or customer had just one bad experience, they might tell 8-10 friends. 
In 2018 if an employee or customer has just one bad experience, it goes viral: 80,000 -100,000 friends! 
It is our belief that owners and entrepreneurs are not defining the brand: the brand is defined by the customers who experience it! 
Strong and dynamic omni-channel customer engagement strategies retain an average of 89% of their customers, as compared to 33% for companies with weak omni-channel strategies and less than 1% for companies that don't know what omni-channel is! 
We're joking with that last one… or are we?
If you're reading this… You're most likely ready to start inspiring your leaders, motivating your team to create a WOW work environment, while ensuring that you WIN and KEEP customers for life!  We can help with that! The INSIDE View gives your team the tools, techniques, and rules to the EXPERIENCE game!  Are you ready to unleash your team's FULL potential? 
Sorry, there are no upcoming events