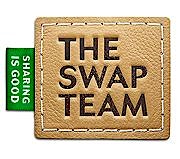 The SWAP Team
Hi there!
We're The SWAP Team, a nonprofit social enterprise based in Montreal, Canada run by volunteers. Pioneers of the clothing swap trend, our popular event Take Off Your Clothes has excited audiences since 2007. Our many chapters have hosted events in Montreal, Toronto, Calgary, Ottawa, Boston, MA, Winnipeg and New York City.
You might spot us in fashion magazines Clin d'Oeil, Loulou, Mlle and Zink Magazine or in news outlets CBC-TV, Radio-Canada, CBC-Radio, Montreal Gazette, Calgary Herald, Ottawa Citizen, The Globe and Mail, National Post and many others.
To date, we've swapped over 46,000 garments, donated over 48,000 garments to charities and diverted a whopping 94,000 garments from landfills. Best of all, we've helped people save a million dollars simply by swapping instead of shopping!
Help us spread the word: SHARING IS GOOD!
Sorry, there are no upcoming events