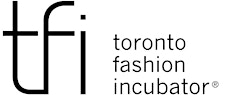 Toronto Fashion Incubator (TFI)
TFI is an award-winning non-profit organization that nurtures, supports and promotes emerging fashion entrepreneurs. TFI was established in 1987 as the world's first fashion incubator and its model has now been adopted by 33 cities across the globe.
Many of Canada's top apparel and accessory designers are TFI members and alumni including Antonio Azzuolo, Jenny Bird, Joeffer Caoc, David Dixon, Pina Ferlisi (McQ), Sunny Fong of VAWK, Foxy Originals, JUMA, Shay Lowe, Todd Lynn, Arthur Mendonca and Wendy Wong for House of Spy and Beatrice Holloway.
To become a TFI member and for more information, please visit us at www.fashionincubator.com
Sorry, there are no upcoming events