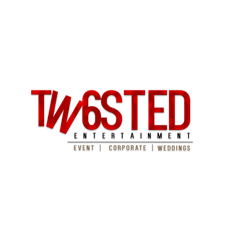 Tw6sted Entertainment
Tw6sted Entertainment Is A Full-Service Event, Venue Management And Consulting Company Located In Toronto, Canada. Tw6sted Ent Offers Complete Event Planning & Management Services, Programming & Production, Entertainment & Special Event Coordination, High-Quality Activities & Event Promotion. 

We Also Offer/Provide; 
- Photography/ Cinematography
- Graphic Designing 
- DJ Lighting 
- Step & Repeat Custom Backdrop Banners
- Limo/Cake/ Catering Services
- Live Performances (Hollywood/Bollywood) 

Let Tw6sted Ent.Turn Your Dreams Into Reality. Tw6sted Entertainment Is Specialized In Providing Services You Will Never Forget, From Weddings To Private Events, Corporate & More! 
------------------------------------------------------------------

Lifestyle/ Event Marketing and Promotion.
19+ (Stori Nightclub/ Barcode / Solarium Nightclub)
Toronto's Best Nights - Anything To Everything, Anyone To Everyone.

VIP Guestlist/ Bottle Service/ Limo / Birthday Packaages Contact Tw6sted Ent. 
T: (647) 995-7263 
E: Tw6stedent@hotmail.com
IG:Tw6stedent

Let Tw6sted Entertainment Manage Your Next Event. 

Click "LIKE" & Keep Checking In For Information On The Next Exclusive, Amazing Party's & Events!
Sorry, there are no upcoming events