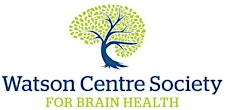 Watson Centre Society for Brain Health
At the Watson Centre Society for Brain Health, our mission is to improve the lives of people who have suffered brain injuries, including concussion(s). Our team of specialists work with survivors to develop customized innovative and holistic programs that help stimulate the brain's capacity to grow and change. 
According to Brain Injury Canada, 160,000 Canadians sustain brain injuries or concussion(s) every year and more than 2 million Canadians live with the effects of an acquired brain injury. 
Recovery is possible. Innovative tools that target specific behaviours of the brain are changing rehabilitation outcomes. What you do and how often you do it will re-organize your brain. This is the promise of neuroplasticity.
Sorry, there are no upcoming events