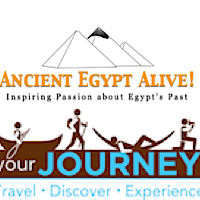 Your Journey Travel and Ancient Egypt Alive
Ancient Egypt Alive! is a Canadian society devoted to raising interest, knowledge and excitement around the study and preservation of ancient Egyptian history and culture.
We welcome history lovers, travellers, readers, teachers, students and anyone who loves Ancient Egypt. Join us for an exciting learning event or 'dig' into our resources where we aim to shake, stir, educate and inspire you to keep the greatness of ancient Egypt alive in heart and mind.
Laura Ranieri is an Egyptologist, writer and the co- founder of Ancient Egypt Alive – based in Port Hope and Toronto. She has written (and presented) extensively on ancient Egypt at museums and libraries across Canada and in the US – and created/led tours to Egypt. Laura has excavated in Bulgaria at a classical Greek site and in Egypt at Amarna and South Asasif. She began her career as an actress and travel TV show host, and is passionate about story-telling and bringing the fascinating history of Ancient Egypt Alive to the general public.
Your Journey is an award-winning travel agency that specializes in authentic and extraordinary individual and small group travel to all corners of the earth. Look to our 30-plus years of global travel experience to chart a unique course – and tailor-make your ideal itinerary.
Anna MacKay is a lover of Egypt, history, museums and travel. For three decades she has been a renowned adventure travel specialist, sending hundreds of people to Egypt and leading dozens of cultural and historic tours around the world. As owner of Your Journey travel and co-Director of Ancient Egypt Alive, she is proud to have traveled to every continent in the world — and to Egypt half a dozen times. Anna will be our tour leader for this journey - and is known to work exceptionally hard behind the scenes and go the extra length to ensure the total comfort and satisfaction of all her travellers.