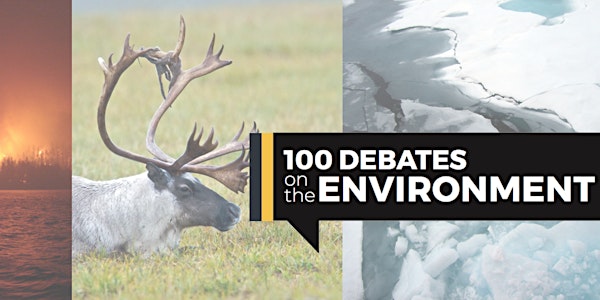 100 Debates on the Environment - Waterloo, ON
When and where
Location
Theatre of the Arts - University of Waterloo Ring Road Waterloo, ON N2L 3G1 Canada
Description
100 Debates on the Environment - Waterloo
Sponsored by: Department of Political Science, University of Waterloo
100 Debates on the Environment is a national initiative to hold non-partisan all-candidates debates on the environment in 100 or more ridings across Canada.
Come out to hear what actions your Waterloo candidates will take to fight climate change and protect the environment.
Participating Candidates: Lori Campbell (NDP), Bardish Chagger (Liberal), Erika Traub (PPC), Kirsten Wright (Green),
Declining Candidate: Jerry Zhang (Conservative) due to a scheduling change announced Oct. 3rd.

This event is sold out as far as the capacity in the Theatre of the Arts, however, overflow space in the nearby Arts Lecture Hall (AL 116) will be available where the event will be live streamed. (If you can no longer attend, please kindly cancel your ticket so others can participate.) Please arrive early since seating in the Theatre of the Arts will be filled first and then the overflow space at AL 116.
The event will also be live streamed and the video stored on:
- the facebook page- 100 Debates on the Environment - Waterloo
- the University of Waterloo website: https://livestream.com/accounts/2091193/events/8843701
6 Predefined Questions That Will Be Asked of the Candidates Followed by Audience Questions:
(The first 4 questions are being asked at all of the 100 Debates events across Canada.)
Climate Change
Around the world, we are seeing inspiring examples of leadership to reduce greenhouse gas (GHG) pollution and accelerate the shift to a green economy. At the same time, we are seeing a ramp-up of the effects of climate change, and the scientific consensus is that we have little more than a decade to turn things around. We see extreme weather events across the country, including wildfires, flooding and droughts. These are causing anxiety and worry, given their enormous financial and environmental impact. Per person, Canadians produce the most GHG pollution of all G20 industrialized nations – nearly three times the G20 average and eight tonnes per person.

Q: What are the key elements of an action plan that you will advocate for to ensure Canada meets its international obligations to reduce GHG pollution?
Water
Many Canadians know that our country has the longest coastline in the world. Less well known is that Canada is home to roughly half of the world's lakes and an equivalent volume of the world's freshwater and roughly one-quarter of the world's wetlands.
Canada is seeing the impact that industrial development and climate change is having on our water resources. We are seeing the re-emergence of pollution hotspots, like Lake Erie. And the Insurance Bureau of Canada has noted that climate change, as well as the historic loss of wetlands across Canada due to industrial development, has led to a massive 250% increase in flooding over the past two decades, as well as to a reduction in water quality and wildlife habitat.
Q: What can the federal government do to work with different sectors like municipalities and farmers to reduce both water pollution, and the risk of flood events which have been aggravated by industrial development and climate change?
Wilderness Conservation
When asked about what they love most about our country, Canadians point first to natural beauty, wildlife and spectacular wilderness areas. Yet we are falling below our international commitments to protect these spaces, and our parks and other protected areas are not funded at the level needed to conserve the diverse plants and animals that live there. A recent study shows that 50% of Canadian wildlife species are in decline.
Ninety-four percent of Canadians value the emotional and physical benefits of spending time in nature. However, 82% say that they're concerned that future generations won't have close or easy access to nature.
Q: What will you do to protect the quality and quantity of wilderness in Canada?
Pollution and Toxic Substances
Canada has made big strides to improve the health of Canadians and our environment by regulating toxic substances. Legal limits on lead in gasoline, restricting chemicals like DDT and ozone-depleting substances, the Canada-US acid rain agreement, and the phase-out of coal-fired electricity have had an enormous positive impact on the health of Canadians and our environment, saving lives, preventing illnesses, and saving billions of dollars in avoided health care costs.
However, air pollution is still the leading environmental cause of death and illness in Canada, and Canada remains the only western industrialized nation without legally binding, national air pollution standards.
In addition, our laws and regulations have not kept pace with emerging threats from newer toxic substances in our environment, including from pesticides in our food, and other harmful chemicals in everyday consumer products. Many of these substances have demonstrated links to cancer, genetic damage, developmental problems, chronic illness and many other health effects. These effects are often more severe for children and other vulnerable populations.
Our overarching toxics law, the Canadian Environmental Protection Act, has not been significantly strengthened in 20 years.
Q: What will you do to ensure that Canadians are better protected from the health and environmental impacts of toxic substances? Will you commit to strengthening the Canadian Environmental Protection Act and the Pest Control Products Act?
(The following are 2 locally developed questions.)
Just Transition
To mitigate climate change, Canada will need to transition towards a decarbonized economy. The Paris Agreement, 2015, which Canada signed, involves "Taking into account the imperatives of a just transition of the workforce and the creation of decent work and quality jobs in accordance with nationally defined development priorities".
Q: How will you ensure the development and implementation of a just transition strategy for Canada? How will you approach the development of green jobs and green tech innovation across Canada? Through what mechanisms will you support workers (and their communities) through this transition?

Rights of Indigenous Peoples
Q: Given Indigenous peoples' longstanding defence of land and waters, and the commitment made in Parliament by all parties in 2018 to align Canada's laws with the United Nations Declaration on the Rights of Indigenous Peoples or UNDRIP , how will you ensure the rights of Indigenous peoples are respected in energy development projects?
FAQs
Location of the Theatre of the Arts?
From University Avenue West turn left onto the Ring Road. The Theatre of the Arts is between the EV3 buiding and Needles Hall.
Parking/Transit:
Please park in lots H, A and C. The ION and buses go to the campus as well. There will be signs and volunteers showing the way to the Theatre of the Arts and our overflow location, AL 116.