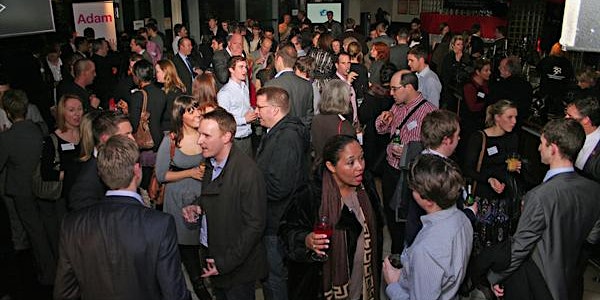 *$20 cash only at the door - Online tickets no longer available* Swift Netw...
Event Information
Location
Posh Supperclub
50 Cumberland Street
Toronto, ON M4W 1J5
Canada
Description
Hello Business Professionals,
Please join us for an evening of Swift Networking
Network with as many people as possible in one evening. If it looks like you're spending too long with one person then you will be given the signal to move onto the next person.
6.00pm: Arrive for mix and mingle
6.30pm: Guest Speakers - Deborah Austin, Paula Cowan and Kevin Huhn
Deborah Austin - Develop Your Signature Speech

Speaking engagements are an excellent way to connect with potential clients and expand your network. A signature speech is a presentation that outlines your key area of expertise when you are invited to speak at events.
Developing your signature speech can help you to leverage your speaking engagements to connect with potential clients, maximize sales and other opportunities.
Deborah will teach you tips and strategies on how to develop your signature speech.
Paula Cowan - Linkedin; Are You Attracting or Repelling Contacts?

Over 51% of Linkedin users neither complete nor optimize their profile. What they do not realize, is this is costing them visibility and credibility. Not to mention lost contacts, clients and income.
Learn the 3 most critical dos and don'ts to make sure your profile is drawing connections in rather than your competition.

Kevin Huhn - #1 Thing Killing Your Business

When business owners are asked what is the #1 thing killing their business - 80% have no idea. In fact most are left wondering long after if they will ever find it. The ironic part is, the #1 thing is also the secret to ensure success.
Kevin Huhn's presentation will share the one thing that kills every business and why it is important to master it.
7.30pm - Swift Networking
You will be provided with one complimentary drink ticket (must be used by 8.30pm)
Additional Drinks: They have wide selection of drinks to choose from so you are encouraged to purchase additional drinks to support the staff and venue. You must pay for your own drinks.
Swift Networking: Spend about five minutes with each business professional then move onto the next person.
You save your time by meeting several people in a short space of time rather than spending the entire evening in conversation with the same set of people.
By the end of the evening you will have several useful contacts to pursue.
Bring at least 60 business cards.
Guest Speaker BIOs:
Deborah Austin - Speech Coach
Deborah Austin is an award winning speaker, writer, trainer coach and consultant. Her mission involves helping people to have a greater impact in the world through enhanced communication and leadership skills. As a transformation expert, Deborah empowers people to elevate their public speaking and presentation skills to the highest level.
Deborah is a Distinguished Toastmaster, which is Toastmasters International's highest honour for leadership and communication excellence. Her background includes an Hons BA in International Relations from the University of Toronto and over a decade of professional experience in the media, marketing communications and in the public sector.
Paula Cowan - Career Strategist

Paula Cowan is a Linkedin Expert & Career Transition Strategist who helps entrepreneurs and career changers get a lazer focus on their purpose and the best way for them to present themselves.
With a combined background in Human Resources and Behaviour Therapy, Paula is renown for cutting through the extraneous to get below the surface and draw out what her clients truly want to say.

Kevin Huhn - Business Growth Strategist & Consultant

Kevin Huhn has been called the Hockey-ologist with a passion for the game of hockey, spanning more than 40 years. Recently dubbed "Canada's #1 'Reinventing Midlife Dreams' Coach," he is an award winning expert, certified coach and author of two books as well, as the creator of the "Total Branding Blueprint™"
With a 30+ year business acumen, Kevin's strategies have transformed hundreds of businesses in Canada and the US. He demystified the so-called only ways, to realize success. Featured on National, regional and local news, making it to pro hockey and providing new perspectives on building a brand - he has discovered the secret to long term success.
Date and time
Location
Posh Supperclub
50 Cumberland Street
Toronto, ON M4W 1J5
Canada