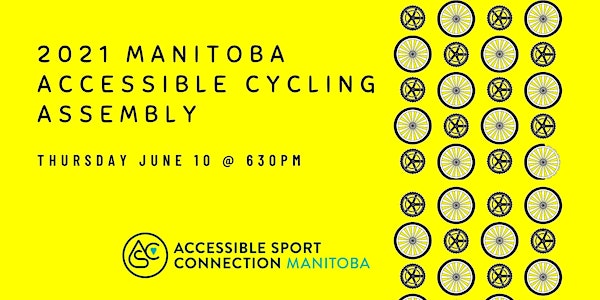 2021 Manitoba Accessible Cycling Assembly
Let's get together and create more Inclusive and Accessible cycling opportunities for all Manitobans!
About this event
Accessible Sport Connection Manitoba believes that Manitobans of all abilities should have equal access to Sport and Recreation.
Our virtual winter events clearly demonstrated that Manitobans with a disability have an interest in cycling. ASCManitoba would like to acknowledge that their voices were heard and we invite you to attend the 2021 Manitoba Accessible Cycling Assembly!
This event is open to anyone interested in Accessible Cycling. Whether you are a person with a disability, a disability community ally or Organization that is passionate about creating inclusive opportunities and Accessible Recreational spaces in Manitoba. No experience as a cyclist is necessary and you do not have to own a bike to participate.
During the event we will ask participating Organizations to introduce themselves and share information about their events, programs or any equipment that they might have available to persons with a disability. The goal is to connect Accessible Sport and Recreation participants with opportunities to be active and facilitate inclusion within Manitoba's cycling community. We encourage persons with a disability to engage in conversation about their safety as Accessible Cyclists and how they might be supported within Manitoba's cycling community.
This event will be hosted on Zoom and it will NOT be recorded. If you have any questions about the event or you need help registering please contact us mbaccessiblesport@gmail.com
Follow us @ascmanitoba on Facebook or Instagram to learn more about our Organization!
We look forward to gathering again as a community!