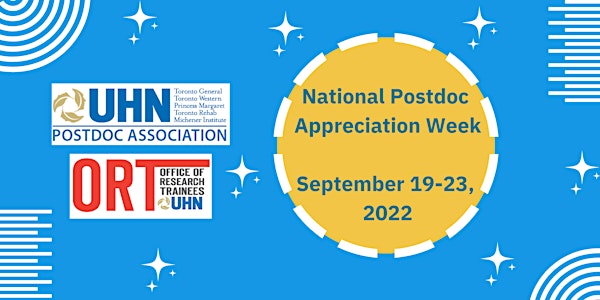 2022 Postdoc Appreciation Week!
Join us for a week of events, including PowerPoint Karaoke, Wellness and Networking Panels, socials and more!
About this event
Join us for Postdoc Appreciation week!
The UHN Postdoc Association (UHNPA) and Office of Research Trainees (ORT) are excited to participate in National Postdoc Appreciation Week (NPAW) at UHN! To celebrate and connect UHN postdocs, we're hosting a series of virtual events to support your career development, wellness, community building and more!
All are welcome to join any of the events! Register now.
Welcome and PowerPoint Karaoke | September 19th | 12:00 - 2:00 pm
To kick off Postdoc Appreciation Week, join an Opening Session to celebrate postdocs and learn more about the UHNPA and ORT. This event will also include a PowerPoint Karaoke Networking Session - a hilarious opportunity to meet other postdocs while they take turns presenting each other's slides that they've never seen before. Everyone is welcome to participate or just watch the fun! There will be opportunities to win prizes!
More information here. Add event to your calendar here.
Postdocs' Rights - Unraveling the Mysteries| September 20th | 2:00 - 3:00 pm
In this session, we want to empower you with information about your rights as UHN postdocs. We will cover basic topics such as health insurance coverage, salaries, parental leave, conflict resolution, research resources, and more. Representatives from UHN's Office of Research Trainees, Research Quality Integration, and People & Culture will answer your questions, which you can submit on Slido here.
More information here. Add event to your calendar here.
The Intersection of Physical and Mental Health: a Panel Discussion | September 21st | 1:00-2:00 pm
The UHNPA health and wellness subcommittee invites you to a wellness panel to discuss the relationship between mental and physical health, in an environment free of stigma or judgement! With panelists:
Dr. Madelaine Gierc, Therapist
Stacie Mistysn, Certified Personal Training Specialist, Certified Healthy-Eating & Weight Loss Coach, Menopause Fitness Specialist.
Amy Di Marino, Holistic Counsellor and Reiki Master
More information including speaker bios here. Add event to your calendar here. Submit your questions for the speakers on Slido here.
Exploring Careers Outside of Academia | September 22nd | 4:00 -6:00 pm
In partnership with the Science to Business Network (S2BN), this panel and networking event will introduce attendees to diverse industry career paths, via discussions with industry professionals. Speakers:
Alexander Lang, PhD, MBA - Manager Med. Info, Janssen
Barbora Hucik - Medical Science Liaison (MSL), Novo Nordisk
Rylend Mulder - Strategic Operations Manager, Novo Nordisk
Tracy Moreira-Lucas, PhD - Oncology medical affairs scientist, Pfizer
Carla Maxemous – Medical Science Liaison (MSL), GSK
Stuart Young - Medical Advisor, Hematology at Bayer Canada
More information here. Add event to your calendar here.
Social (with Prize Draw!)| September 23rd | 12:00 - 2:00 pm
We'll wrap up Postdoc Appreciation Week with a two-part social to socialize with other UHN postdocs in a speed-greeting session, as well as hobby-themed breakout rooms discussions. There will be a draw at the end for all attendees to have a chance to win prizes!
More information here. Add event to your calendar here.
All event registrants are asked to make sure they have read the ORT's Code of Conduct. By registering you are agreeing to abide by the code of conduct.