Location
Canada 150 Square
210-5589 47 Street
Red Deer, AB T4N 1S1
Canada
The Red Deer PCN Fun Run is an annual walk/run event celebrating people, movement, and community, welcoming all ages, abilities & genders.
About this event
ONLINE REGISTRATION IS NOW CLOSED.
We welcome walk-up registrations at Package Pickup on Friday, May 6th from 11am to 7pm (Weber Physiotherapy, 5420 45 Street), or at the race on Saturday, May 7th (Canada 150 Square, 210-5589 47 St. Red Deer). Be sure to allow at least 45 minutes before your race time to complete the registration process.
Be sure to first read all information on our website before registering at www.reddeerfunrun.com.
Join us on May 7, 2022 at our NEW Capstone location in Red Deer at the Canada 150 Square. We are excited to bring you this all-new Fun Run, welcoming all ages, abilities and genders in all events.
An Event for Everyone
This year, we have opened up the Fun Run to everyone - all ages, abilities & genders are welcome in all events! Choose from:
10km
5km
3km
Dog Jog 3km
Little Surfers 500m (recommended for ages 4-5)
Boogie Babies 100m (recommended for ages 1-3)
"Where the FUN Comes in Waves"
We will be running all events in WAVES this year so that everyone can choose their preferred group and start time. Prefer running with all-females? There's a wave for that! Want to take on the fastest competitors? Sign up for a "Fast & Furious" wave! Wave times are approximate and each wave group may be split up into smaller start groups based on any health & safety guidelines in place on the day of the race. You also have the option to participate remotely in the event... just choose that option from the wave dropdown choices during registration.
SPACE IS LIMITED AND WAVES MAY SELL OUT, SO REGISTER EARLY!
Calling all Dogs!
We LOVE our dogs, and know that research shows that dogs can be an amazing support and inspiration when it comes to keeping active! To make sure this is a super fun event, to show respect for all, and to keep everyone safe, please be sure to read the Dog Jog Rules before registering your furry friend for this event.
Please note: Dogs are welcome at the event anytime after 12:15pm on race day. For everyone's comfort and safety, we ask you to leave your pooch at home until then!
Supporting the Central Alberta Child Advocacy Centre

Please support the Central Alberta Child Advocacy Centre in their goal to help children & families impacted by abuse. After you click on the green "Tickets" button on this screen, you will see a pop-up box listing all available events. Scroll to the very bottom to find a "Donation" option if you are able to help! Official tax receipts will be given for all donations of $25 or more. The CACAC will also be onsite at the race with tons of fun activities, BBQ, and more to help raise funds!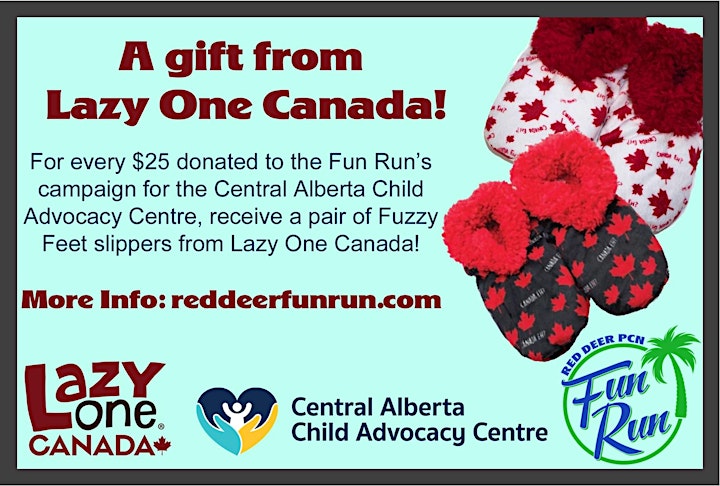 Huge thanks to all of our generous community partners, helping to make this event possible!