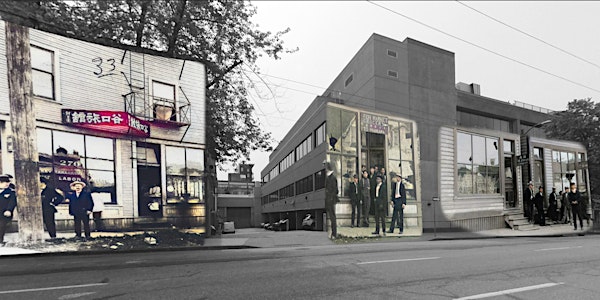 360 Riot Walk Guided Tour - Sept 7
When and where
Location
Carnegie Community Centre 401 Main Street Vancouver, BC V6A 2T7 Canada
Description
360 Riot Walk is an audio-visual experience developed by artist Henry Tsang, tracing the history and route of the mob that attacked Vancouver's Chinese Canadian and Japanese Canadian communities following a demonstration and parade organized by the city's Asiatic Exclusion League.
The 1907 Anti-Asian Riots are one of the most significant events in this city's history, and reflect the socio-political environment of the time, when many communities were targeted through legislative and physical acts of exclusion and violence. Using a mix of present-day and archival photographs and documents, the tour uses 360° video technology to offer an immersive view of this important chapter in Vancouver's complex story.
A limited number of free guided tours in English will run on August 3 & 4 and September 7 & 8, with tablets and headphones provided. Participants can register for the August 3 & 4 tours at the Powell Street Festival. Registration for the September tours will open on July 27.
The video will also be made available for online streaming, allowing people to explore the story on their own outside of the scheduled tours. The full soundtrack will be accessible in English, Cantonese, Japanese, and Punjabi.
Registration:
Registration for the September 7 & 8 tours can be completed through Eventbrite, by email to deanna.chan@vancouverchinesegarden.com, by phone to 604-662-3207 x 209, or in-person at Dr. Sun Yat-Sen Classical Chinese Garden (578 Carrall St.). Registration opens July 27.
Tablets and headphones will be provided to registered participants on the guided tours. Max. 10 participants per tour. Registration is on a first-come, first-serve basis.
Disclaimer: By joining a 360 Riot Walk Guided Tour, participants assume all risks of participation in the tour, whether known or unknown to them, including travel to and from the tour or any events incidental to the tour. Photographs taken of participants may be used for promotional purposes. Participants will be asked to sign a release form before starting the tour.
---
360 Riot Walk is produced by Henry Tsang in collaboration with Dr. Sun Yat-Sen Classical Chinese Garden. Partners include the Japanese Language School and Japanese Hall, the Chinese Canadian Historical Society of BC, Carnegie Community Centre, and the Basically Good Media Lab at Emily Carr University. This Project has been supported through the Neighbourhood Matching Fund of the Vancouver Board of Parks and Recreation, SSHRC Explore Grant, and Emily Carr University of Art & Design.