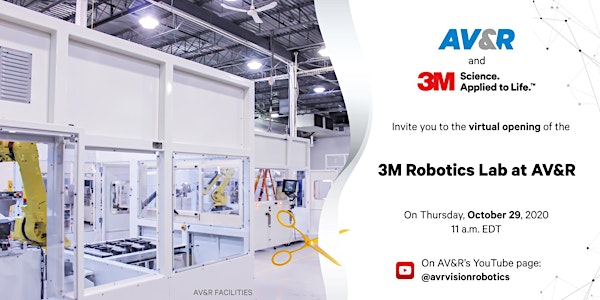 3M Robotics Lab at AV&R - Virtual Opening
3M Robotics Lab at AV&R
When and where
Location
AV&R 1203 Rue Marie-Victorin Saint-Bruno-de-Montarville, QC J3V 6C3 Canada
About this event
On October 29 at 11:00 a.m. EDT, AV&R and 3M will virtually inaugurate the 3M Robotics Lab at AV&R. This event premiere on YouTube will be an opportunity for the two companies to present this new location to their customers and partners and to officially announce their collaboration.
The laboratory, located on the premises of AV&R in Saint-Bruno-de-Montarville, Quebec (Canada), will be the focal point for the expertise of the two companies and will allow the advancement of robotic finishing technologies.
EVENT PROGRAM:
- 3M and AV&R's presentations:
Debarati Sen - Vice President, Abrasives System Division (3M)
Carl Doeksen - Global Robotics and Automation Leader (3M)
Jean-François Dupont – CEO (AV&R)
Michael Muldoon – Product Development Director (AV&R)
- Guided-tour
- Robotic system demonstrations
With the participation of partners and clients: Fanuc Canada, APN Global, Proax, FerRobotics, Keyence, Robot Reels
AV&R's YouTube page: @avrvisionrobotics
----------------------------------------------------------------------------------------------------
*Évènement en anglais majoritairement
Le jeudi 29 octobre à 11 h EDT, AV&R et 3M inaugureront virtuellement le Laboratoire de robotique 3M chez AV&R. Cet évènement, en avant-première sur YouTube, sera l'occasion pour les deux entreprises de présenter ce nouvel espace à leurs clients et partenaires, et d'annoncer officiellement leur collaboration.
Le laboratoire, situé dans les locaux d'AV&R à Saint-Bruno-de-Montarville au Québec (Canada), sera le point focal de l'expertise des deux entreprises et permettra l'avancement des technologies de finition robotisée.
AU PROGRAMME :
- Présentations de 3M et AV&R :
Debarati Sen - vice-présidente, division systèmes abrasifs (3M)
Carl Doeksen - responsable mondial robotique et automatisation (3M)
Jean-François Dupont – PDG (AV&R)
Michael Muldoon – directeur développement de produits (AV&R)
- Visite guidée
- Démonstrations de systèmes robotisés
Avec la participation de partenaires et clients : Fanuc Canada, APN Global, Proax, FerRobotics, Keyence, Robot Reels
Sur la page YouTube d'AV&R : @avrvisionrobotics