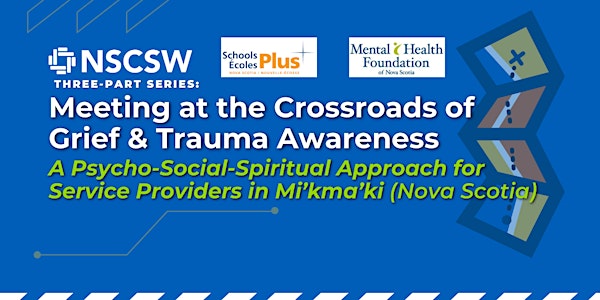 Meeting at the Crossroads of Grief & Trauma Awareness
Join us for a special three-part training on grief and trauma for Nova Scotia service providers.
About this event
14 days 2 hours

Mobile eTicket
Meeting at the Crossroads of Grief & Trauma Awareness: A Three Part Training
A Psycho-Social-Spiritual Approach for Service Providers in Mi'kma'ki (Nova Scotia)
Serena Lewis, MSW, RSW
Registration is free, and includes all three sessions in this series. The intention of this learning opportunity is to create a collective space to share & interact in awareness, knowledge, competencies, and skills, for self and others.
With an understanding that we, as a collective, have required personal, professional, and private integration of historical & current losses in our lives, families & communities, we are offering the following sessions.
Part 1: Grief & trauma awareness: An inside/ outside Job
Monday November 28 — 11:00 a.m.- 1:30 p.m.
Honouring the impacts of our own integration within our lives, and our roles within community
Part 2: Embracing and supporting a family and community centred approach
Monday December 5 — 11:00 a.m.- 1:30 p.m.
Part 2: Honing in on skills & theoretical understanding with the people we intersect
Monday December 12 — 11:00 a.m.- 1:30 p.m.
Facilitator
Serena Lewis, MSW, RSW
Recognized by NSCSW and the Canadian Association of Social Workers with a 2020 Distinguished Service Award, Serena is a social worker, consultant and educator committed to values of social change. Her career in Mi'kma'ki (Nova Scotia) has been diverse in non-profit, provincial, and federal systems. She has been a champion in each of these sectors advocating for and with the people she engages. In 2018 Serena was awarded the Wesley and Jeanne Drodge Award for Health and Social Policy, as she has remained committed to asking hard questions of systems, leaders, and herself.
As a clinician who has specialized in the field of dying, death and grief, she has mentored, educated and case consulted with teams locally, provincially and nationally. A facilitator, and committee participant on various national groups, she has elevated the necessity for social justice in end of life. Her participation and activism in the Nova Scotia Mass Casualty tragedy has demonstrated that Canadians need to rethink how we live, die and how grief (& sometimes trauma) intersects these experiences. Serena is also the proud mother of two sons and a Bernese Mountain dog
Professional development for social workers
For members of NSCSW, participating in this event can be considered formal professional development as defined by NSCSW's guidelines for annual professional development. Members can use the registration confirmation email or PDF ticket as a verification document.
Participants may also choose to follow up after the session to participate in advocacy related to the session's content; such advocacy activities are eligible for the newly mandated requirements for all social workers in Nova Scotia to complete annual training or activities related to social justice.
Visit nscsw.org/pd for more information about the updated professional development requirements for Nova Scotia social workers.