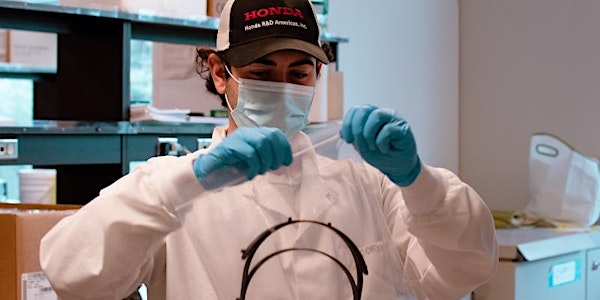 4th Annual Biomedical Engineering and Health Science Showcase
4th Annual Biomedical Engineering and Health Science Showcase
About this event
Join us as we showcase Biomedical Engineering and Health Science research and partnerships in the landscape of COVID-19. Industry, researchers, faculty members, health professionals, government and students are invited to this interactive virtual event. Login to hear about the novel innovations being developed by Victoria's lead researchers and companies in response to the COVID-19 pandemic. Learn how to navigate the ever-changing landscape of the workforce in these unprecedented times, and enjoy a virtual networking and poster session showcasing up-and-coming research.
Victoria is an epicenter of technology and innovation that continues to grow in the biomedical and health technology fields. UVic generates and fosters strong connections between university research, local business and health agencies. This event showcases these connections and our leading edge biomedical and health research.
The event will be soon be live!
You can join the main event by clicking here.
At 2:00 pm PST, you can join the poster session and networking portion of the event by clicking here.
Schedule
10:30 am - 10:45 am: Welcome and Update on UVic's Health Initiative by Michael Masson, Special Advisor Health Research, Office VP Research & Professor, UVic Psychology
10:45 am - 12:00 pm: YYJ COVID-19 Research Partnerships - Mini Presentations Moderated by Stephanie Willerth, Canada Research Chair Biomedical Engineering, Acting Director of the UVic Biomedical Engineering program and the Centre for Biomedical Research
Details:
Inez Jabalpurwala, Global Director, VINEx/Founding CEO, Brain Canada Foundation. Keynote Industry Presentation: Bringing catalytic leadership to advance our understanding of the impact of SARS-CoV-2 and other viruses on the central nervous system.
John Walmsley, EVP Strategic Relationships, Starfish Medical. Presenting: Starfish Medical Canadian Emergency Ventilators Project
Coffee Break
Alexandre Brolo, UVic Professor. Presenting: COVID Diagnostic Project with ImmunoPrecise Antibodies
Heather Buckley, UVic Assistant Professor. Presenting: COVID Waste Water Monitoring Project with Pani Energy
Mini Presentation wrap up - thoughts, reflections and paths forward by Stephanie Willerth
12:00 pm - 1:00 pm: Chair yoga (~10 minutes) and Lunch Break
1:00 pm - 2:00 pm: Looking for Jobs, Talent and Funding During COVID-19 - Panel Discussion moderated by Ash Senini, UVic Co-op Coordinator. Panel Members include:
Brett Hotas, Senior National Program Manager at TECHNATION Canada
Rachel Burns, Program Manager, ISI Grant Program at New Ventures BC
Milena Restan, Willerth Lab student, UVic Biomedical Engineering Program
2:00 pm - 3:00 pm: Networking and Virtual Poster Session - Biomedical Engineering and Health Sciences
For questions about this event or to receive details about poster submissions contact: rpkmevents@uvic.ca