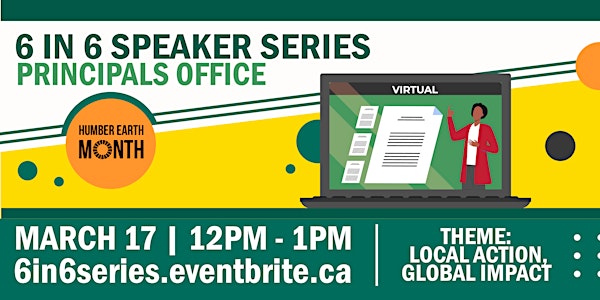 6 in 6 Speaker Series - Local Action, Global Impact.
Presenters - 6 speakers, 6 minutes each, sharing highlights and findings
When and where
Location
Humber College - Virtual 2 Colonel Samuel Smith Park Dr Toronto, ON M8V4B6 Canada
About this event
The Principal's Office at Lakeshore Campus is excited for the 6 in 6 Speaker Series.
March 2021 6 in 6 Speaker Series, in partnership with Humber Sustainability, highlights the theme of Local Action, Global Impact, and how Humber uses social innovation to design sustainable community projects.
It is designed to highlight your exceptional project work, all in a format that is delivered in under an hour. The title is 6 in 6, as a symbol of having 6 presentations for 6 minutes each. The hope is to create a space where staff can connect between all Faculties and departments, further encouraging the multi-disciplinary, collaborative focus that makes us a unique institution.
Event Details:
Date: Wednesday, March 17, 2021
Time: 12pm - 1pm
Venue: Virtual on Microsoft Teams. Event Link will be shared closer to the event date.
It will also include a Q&A session towards the end of the event.
We look forward to having you there!
Presenters include:
Louise Zimanyi and Lynn Short - Two-Eyed Land-Based Play and Co-Learning
Jennifer Ball - Sustainability Stream for General Arts and Science (GAS) students
Shonah Chalmers  - Urban Harvest Toronto
Zaiba Mian  - Entrepreneurship incubation hub in the Maldives
Jennifer Gordon - Humber Indigenous Transmedia Fellowship (ITF)
Derek Stockley and Sandra Van - GARDENS Pod Project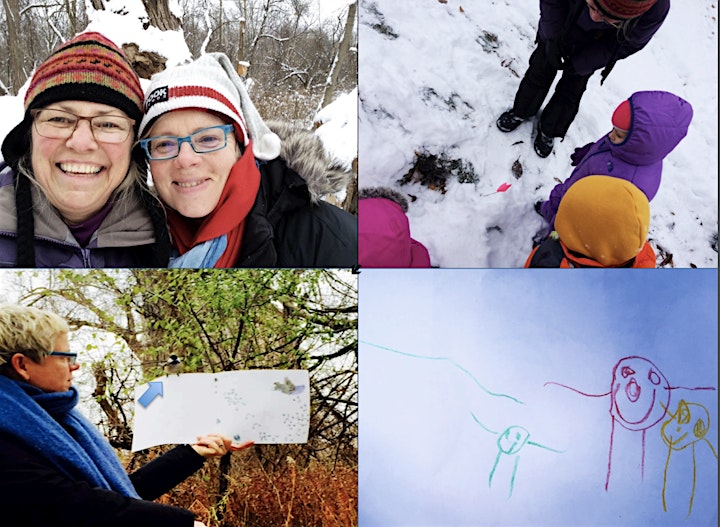 Louise Zimanyi and Lynn Short - Two-Eyed Land-Based Play and Co-Learning
Louise Zimanyi is a Professor of Early Childhood Education, Faculty of Health Sciences and Wellness. Louise's work, research, and advocacy focuses on children's play and learning, particularly in outdoor and natural spaces. Louise is currently conducting research on how collective engagement, inquiry, and storytelling on and with the land may contribute to (re)storying and reshaping place-based early childhood pedagogies and practice.
Lynn is currently the Environmental Stewardship Coordinator for the Humber Arboretum and the Indigenous Education Specialist, Land and culture Based Programs at Indigenous Education and Engagement. Lynn has a strong connection to the land and believes that it is very important for children to have opportunities to get to know and respect All Our Relations in the outdoors.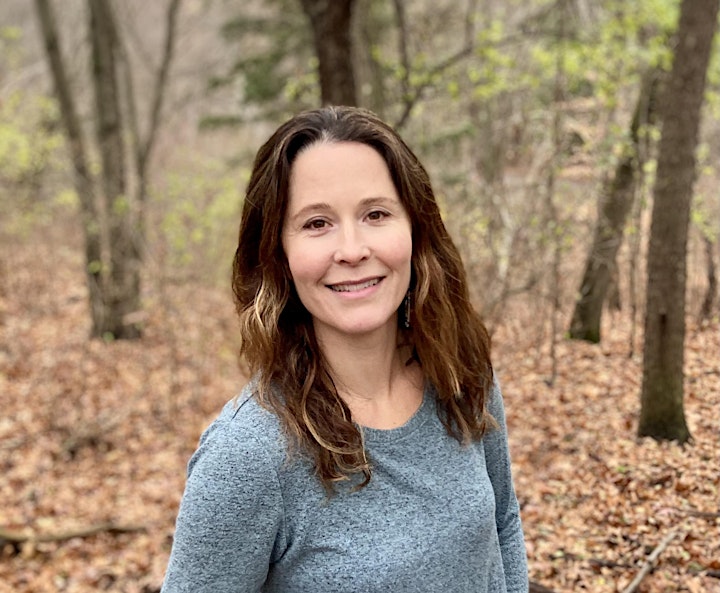 Jennifer Ball
Jen Ball is a faculty member in the department of General Arts and Sciences. She is the co-author of the book The Stacked Deck, an introductory textbook on the sociology of inequality. She is also part of the team transforming Humber College into a leader in Sustainability education and creating pathways to green sector jobs that build healthy, more equitable, and more resilient communities.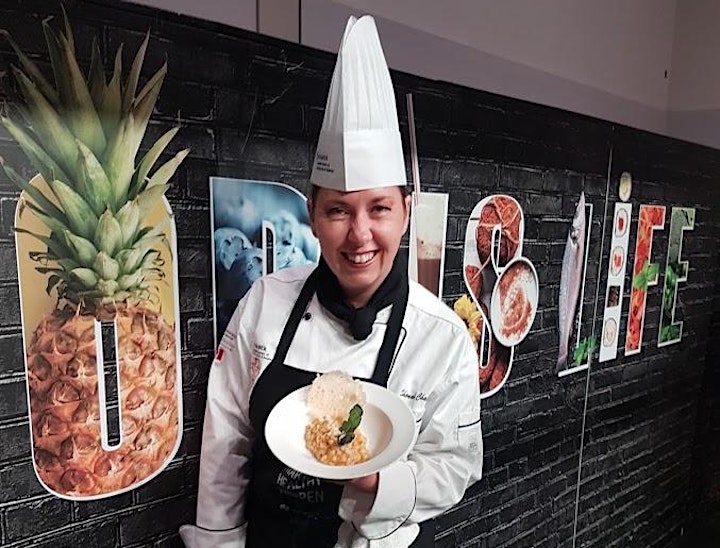 Shonah Chalmers
Shonah Chalmers is a proud graduate of the Culinary Management program at Humber College, she believes in a lifetime of learning and she continually looks for new ways to learn and share within the culinary world. She has successfully completed her interprovincial red seal trade papers, and later passed her CCC accreditation (Certified Chef de Cuisine). In 2014 Shonah completed her two-year Culinary Operations degree at Holland College to receive her B.A.Sc., which introduced her to the bigger ideas of food waste management and global food sustainability and her ability to affect her peers and community. Then she also completed the accreditation of Worldchefs Culinary Educator (WCCE) 2017, which supports her belief that education has no end.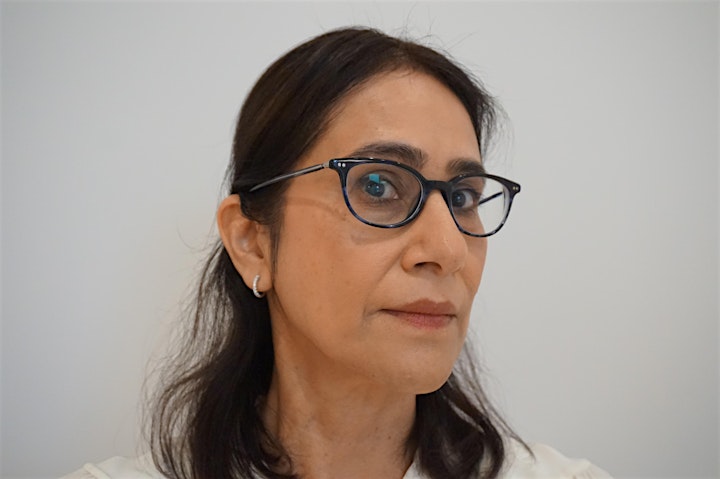 Zaiba Mian
Zaiba Mian is a designer, artist, and educator. She is a professor in the Bachelor of Interior Design program at Humber, PAVE board member, and recently served as the interior design consultant for a World Bank-funded incubator project in the Maldives. Education in architecture at McGill, along with interior/spatial design at Chelsea College, UK has shaped her interdisciplinary design approach.
Zaiba will have 2 students co-presenting with her.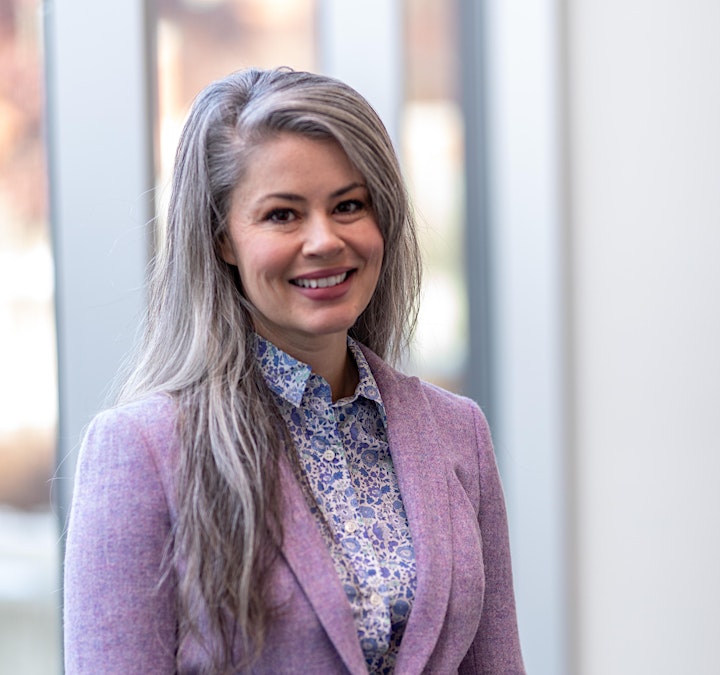 Jennifer Gordon
Jennifer Gordon is the Director of the Humber College Centre for Creative Business Innovation and Humber Galleries. She holds a studio BFA in Drawing & Painting and a BEd in I/S Visual Arts & English, both from the University of Ottawa and is an MFA Candidate in Creative Writing at UBC. Jennifer has experience with Art Therapy workshops and the connection between art, wellness, and social good.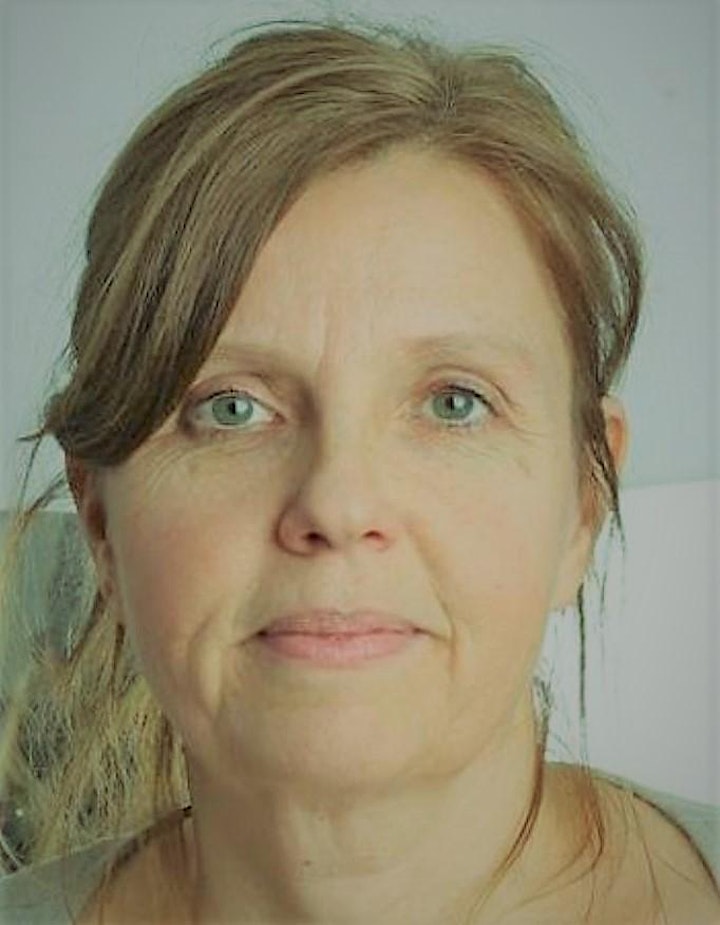 Sandra Van Ruymbeke is one of the founding members of the GARDENS Pod Project. She has a Masters in Fine Arts (OCADU) and Social Work (McMaster). For over 20 years, she has practiced in the areas of health promotion, advocacy, and community development in the Rexdale and South Etobicoke communities. Currently, Sandra works at LAMP Community Health Centre as a Health Promoter.