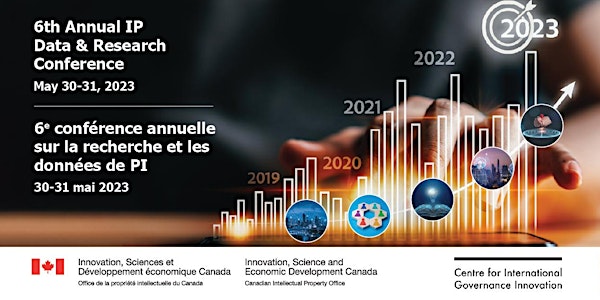 6th Annual IP Data & Research Conference | 3rd Annual Data Day
6e conférence annuelle sur la recherche et les données de la PI | 3e Journée des données
By Canadian Intellectual Property Office
Date and time
Wed, May 31, 2023 8:00 AM - 4:30 PM EDT
Location
Canadian Intellectual Property Office 50 Rue Victoria Floor 24 Gatineau, QC K1A 0C9 Canada
About this event
8 hours 30 minutes

Mobile eTicket
À propos de cet évènement
L'office de la propriété intellectuelle du Canada et le Centre de l'innovation de la gouvernance internationale sont heureux d'accueillir la 6e conférence annuelle sur la recherche et les données de la PI qui aura lieu le 31 mai, 2023 (8h-16h30h HAE). L'objectif de cette conférence est de diffuser la recherche sur la propriété intellectuelle (PI) auprès d'un public de parties prenantes et de chercheurs dans les domaines de la PI et de l'innovation tout en réfléchissant à la façon de promouvoir l'équité, la diversité et l'inclusion dans le domaine. La conférence d'une journée se portera sur cinq thèmes : «Les firmes et l'économique de la PI»; «La diversité et l'inclusion dans l'écosystème de la PI et l'innovation»; «Utilisation et sensibilisation en PI»; «Nouvelles technologies»; et «Enjeux et solutions en PI».
Cet évènement hybride se tiendra en présentiel au bureau central de l'OPIC (50 Rue Victoria, Gatineau, QC) et virtuellement sur Zoom. Etant donné que le nombre de places est limité et que celles ci sont attribuées par ordre de priorité, nous demandons aux personnes qui souhaitent participer en présentiel de s'inscrire avant le 28 avril 2023.
Nous sommes également heureux d'annoncer que nous tiendrons la troisième Journée des données le 30 mai, 2023 (10h-15h HAE) sur Microsoft Teams. Cet évènement permettra aux chercheurs de partager le «comment» de leurs recherches, en présentant les données et les techniques analytiques utilisées pour tirer leurs conclusions.
La participation à ces deux évènements est gratuite, mais l'inscription y est obligatoire. Veuillez noter que le programme officiel de la conférence suivra sous peu.
Appel aux soumissions
Nous lançons aussi un appel ouvert aux présentations. Nous invitons tous les intervenants en PI qui souhaitent présenter un exposé sur l'un des cinq thèmes de la conférence principale. Pour soumettre votre proposition de présentation, veuillez remplir notre formulaire de proposition avant le 7 avril 2023.
Veuillez noter que les conférenciers auront une période de 15 minutes pour présenter leur recherche qui sera suivi par une période de questions de 5 minutes
About this event
The Canadian Intellectual Property Office and the Centre for International Governance Innovation are pleased to host the 6th Annual IP Data & Research Conference on May 31st, 2023 (8AM-4:30 PM EDT). The objective of this conference is to disseminate intellectual property (IP) research from leading experts to further innovation and inform policy, while considering how to promote equity, diversity, and inclusion within the field. This year's conference will be centered around five themes: "Firms and the Economics of IP"; "Diversity and Inclusion in the IP and Innovation Ecosystem"; "IP Use and Awareness"; "Emerging Technologies"; and "IP Challenges and Solutions".
Attendees are invited to join this hybrid conference in-person at CIPO's head office (50 Rue Victoria, Gatineau, QC) or virtually through Zoom. As space is limited and in-person attendance will be allocated on a priority basis, we ask that those who wish to attend in-person register before April 28, 2023.
We are also happy to announce that we will host the third annual Data Day planned on May 30th, 2023 (10AM-3PM EDT) on Microsoft Teams. This event will allow researchers to share the "how" of their research, presenting the data and analytic techniques used to draw their conclusions.
Participation to these two events is free, however attendees are required to register. The full agenda for the conference will soon follow.
Call for presenters
We are also looking for project proposals that align with the themes for the main conference day. To submit your presentation proposal, please complete our proposal form by April 7, 2023.
You will be asked to present your research as a 15-minute presentation followed by a 5-minute question period.