A day of prayer for the church, society, and people of Hong Kong | Une journée de prière pancanadienne pour Hong Kong | 橫跨加國的「香港祈禱日」
About this event
***Faites défiler vers le bas pour la traduction française | 欲看中文翻譯,請向下捲動 ***
WHAT: We invite churches to participate in this day of prayer to pray in their Sunday services for peace and justice to transform the church, society, and people of Hong Kong and to join others across Canada in an evening prayer gathering conducted virtually.
WHEN: March 21, 2021 | 7-8 PM EST
Why devote a day of prayer to Hong Kong?
Canada and Canadians have deep ties with Hong Kong. We feel the pain and suffering and uncertainty many people in Hong Kong are experiencing now. The gospel calls us to grieve with those who grieve, to bear witness to the pain and needs of others, to show solidarity with and hospitality to the needy, and to lift up and attend to their spiritual needs.
Join with us in prayer for transformative peace and justice to touch the church, society, and people of Hong Kong. We pray for the prophetic witness of the Church in society. We pray for many in Hong Kong who struggle to understand what the future holds.
"But God will never forget the needy; the hope of the afflicted will never perish." (Psalms 9:18 NIV)
WHERE: The evening prayer gathering will be conducted virtually using Zoom. After registering for this event, you will receive confirmation emails with more information on how to join this event (please check your spam and trash folders for emails from Eventbrite). At the time of the gathering, participants may need to be simultaneously logged into Eventbrite for the Zoom link to work. Please contact communications@councilofchurches.ca if you are having trouble logging into the gathering at the appropriate time.
WHO: This event is initiated by the Mustard Seeds Hong Kong Concern Group and organized in collaboration with The Canadian Council of Churches.
LANGUAGES: This event will be accessible in English, French, Cantonese, and Mandarin.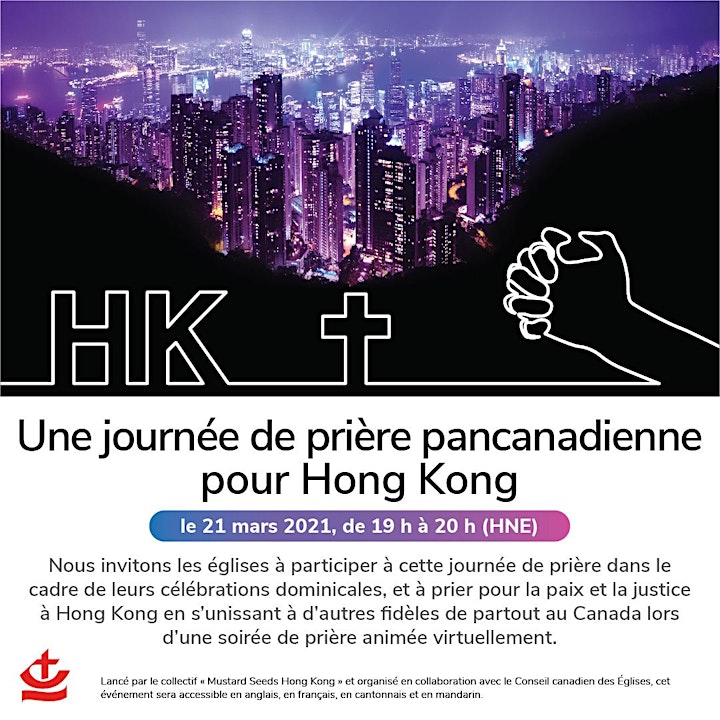 De quoi s'agit-il? Nous invitons les églises à participer à cette journée de prière dans le cadre de leurs célébrations dominicales, et à prier pour la paix et la justice à Hong Kong en s'unissant à d'autres fidèles de partout au Canada lors d'une soirée de prière animée virtuellement.
QUAND: le 21 mars 2021, de 19 h à 20 h (HNE)
Pourquoi consacrer une journée de prière à Hong Kong?
Le Canada et la population canadienne ont des liens étroits avec Hong Kong. Nous partageons la douleur, la souffrance et l'incertitude que vivent actuellement un grand nombre de personnes à Hong Kong. L'Évangile nous appelle à pleurer avec ceux qui pleurent, à porter témoignage de la douleur et des besoins des autres, à faire preuve de solidarité et d'hospitalité à l'égard des malheureux, et à soulager leurs besoins spirituels.
Unissez-vous à nous pour demander dans la prière que la paix et la justice transformatrices touchent l'église, la société et le peuple de Hong Kong. Nous prions pour que l'Église donne un témoignage prophétique au sein de la société. Nous prions aussi pour les nombreuses personnes à Hong Kong qui peinent à comprendre ce que l'avenir leur réserve.
« Non, le pauvre ne sera pas toujours oublié, ni l'espoir des malheureux à jamais perdu » (Psaume 9, 19 TOB)
OÙ: La soirée de prière sera animée de façon virtuelle sur la plateforme Zoom. Après vous être inscrit.e à l'événement, vous recevrez des courriels de confirmation et plus de renseignements sur la façon de participer à cet événement (veuillez vérifier votre corbeille et votre boîte de pourriels pour y retrouver éventuellement les courriels d'Eventbrite). Au moment de l'événement, il se peut que les participants doivent se connecter à la page Eventbrite pour que le lien Zoom fonctionne. Veuillez prendre contact avec communications@councilofchurches.ca si vous éprouvez de la difficulté à accéder à la réunion à l'heure prévue.
QUI: L'événement est une initiative du collectif « Mustard Seeds Hong Kong » et il est organisé conjointement avec le Conseil canadien des Églises.
LANGUES: On pourra suivre l'événement en anglais, en français, en cantonnais et en mandarin.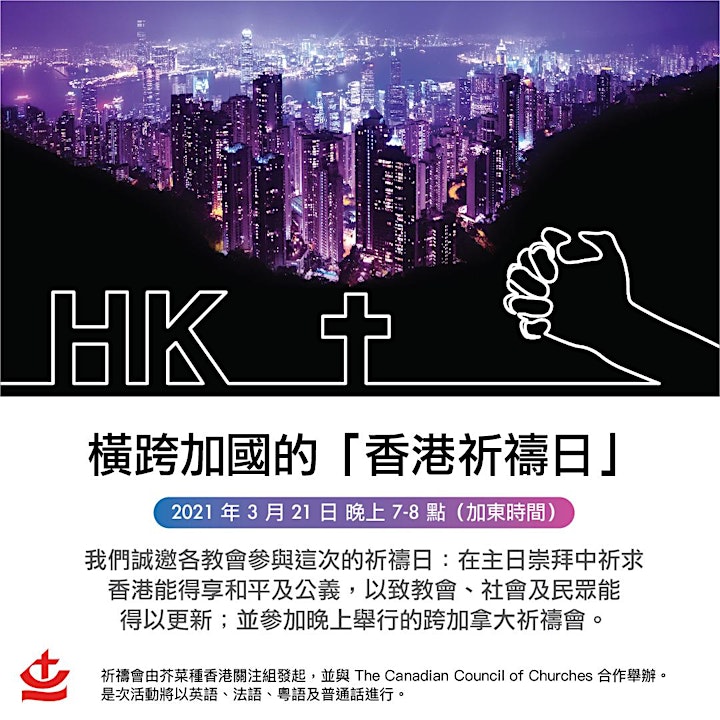 何事?(WHAT):我們誠邀各教會參與這次的祈禱日:在主日崇拜中祈求香港能得享和平及公義,以致教會、社會及民眾能得以更新;並參加晚上舉行的跨加拿大祈禱會。
何時:2021年3月21日 晚上7-8點(加東時間)
為何用一天來專為香港祈禱?
加拿大這個國家及其國民,與香港有極深厚的關係。我們可以感受到許多香港人現在所經歷的痛苦及創傷,以至他們所面對的不明朗前景。福音的真理呼召我們:與哀哭的人同哭,正視人的痛苦及需要,站在受苦群眾的一邊,伸出援手來接待他們,且要重視並顧念他們屬靈的需要。
誠邀閣下與我們一同為香港代禱,祈求具改變力量的和平及公義得以臨到香港的教會、社會及市民。我們為教會在社會中的先知角色祈求,並為許多無法看清前路的香港人代求。
「窮乏人必不永久被忘; 困苦人的指望必不永遠落空。」(詩篇 9:18;和合本)
何處?:晚上的祈禱會將以 Zoom 視像會議方式舉行。在登記參加祈禱會後,閣下會收到確認電郵,其上有如何登入的資訊(請檢查垃圾郵件及垃圾檔案夾,特別留意來自 Eventbrite 的郵件)。聚會開始時,參加者或須同時登入 Eventbrite,Zoom連結才會有效。屆時如無法登入,請聯絡:communications@councilofchurches.ca
何人?:祈禱會由芥菜種香港關注組(Mustard Seeds Hong Kong Concern Group)發起,並與 The Canadian Council of Churches 合作舉辦。
語言:祈禱會將以英語、法語、粵語及普通話進行。