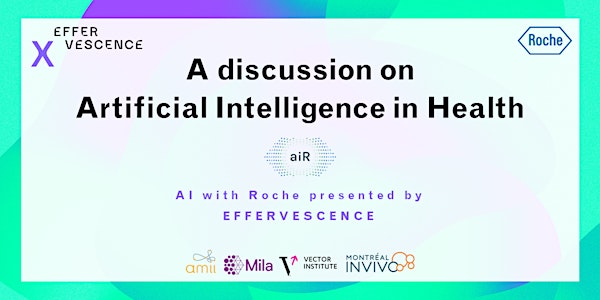 A discussion on Artificial Intelligence in Health
A discussion on Artificial Intelligence in Health AI with Roche – presented by EFFERVESCENCE
About this event
CONNECTION LINK : https://effervescencemtl.com/ai_with_roche.html
Canada adopted a national artificial intelligence (AI) strategy in 2017 and is now considered one of the most advanced countries in this field, as it continues to invest in and attract researchers, students, and experts to build a stronger community.
Considering the importance of AI innovation in healthcare in Canada and the impact that AI discovery and application can have for patients and the healthcare system, Roche Canada created a center of excellence in artificial intelligence called AI with Roche (AIR), in collaboration with the three national AI institutes under the CIFAR Pan-Canadian AI Strategy - Amii, Mila and the Vector Institute.
Joining forces with experts of the research community aims to improve those outcomes from AI applied in healthcare.
Join us for a virtual discussion on Wednesday, September 15th from 1:00 - 3:30 PM EDT about the potential of artificial intelligence in health, public-private partnerships and collaboration, and possibilities to improve health outcomes for populations and patients across Canada by leveraging AI.
Meet the AIR collaborators and hear institutional and political perspectives about the future of artificial intelligence in the healthcare system.
It is the place to be on September 15th. An event presented by EFFERVESCENCE!
----
LIEN DE CONNEXION : https://effervescencemtl.com/ai_with_roche.html
Le Canada a adopté une stratégie nationale d'intelligence artificielle (IA) en 2017 et est maintenant considéré comme l'un des pays les plus avancés dans ce domaine. Le pays continue d'investir et d'attirer des chercheurs, des étudiants et des experts pour bâtir une communauté plus forte.
Considérant l'importance de l'innovation en IA dans les soins de santé au Canada et l'impact que la découverte et l'application de l'IA peuvent avoir pour les patients et le système de santé, Roche Canada a créé un centre d'excellence en intelligence artificielle appelé AIR – IA avec Roche, en collaboration avec les trois instituts nationaux d'IA, soit Amii, Mila et l'Institut Vecteur, et ce dans le cadre de la Stratégie pancanadienne en matière d'IA du CIFAR.
Cette collaboration avec des experts de la communauté de recherche vise à améliorer les résultats de l'IA appliqués aux soins de santé.
Joignez-vous pour une discussion virtuelle le mercredi, 15 septembre prochain, de 13 h à 15 h30 HAE sur le potentiel de l'intelligence artificielle en santé, les partenariats, la collaboration publique-privée et les possibilités d'améliorer les résultats de santé pour les populations et les patients à travers le pays. Rencontrez les collaborateurs de AIR et écoutez les perspectives institutionnelles et politiques sur l'avenir de l'IA dans le système de santé.
C'est un rendez-vous à ne pas manquer le 15 septembre prochain dans le cadre d' EFFERVESCENCE !
Veuillez noter que cet événement virtuel est gratuit et se déroulera en anglais seulement.