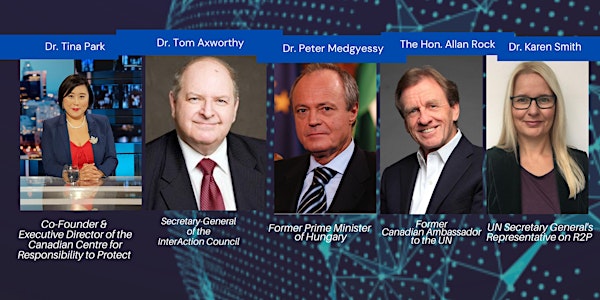 A panel discussion on the Future of Global Humanitarianism
Join us for a fascinating discussion on the future of global humanitarianism!
About this event
This year marks the 15th anniversary since 150 heads of state and government unanimously endorsed the Responsibility to Protect (R2P) at the 2005 World Summit. To commemorate this special anniversary, the Canadian Centre for the Responsibility to Protect and the InterAction Council, in partnership with the NATO Association of Canada and The Park Group, have brought together a fantastic panel to discuss the future of global humanitarianism.
On Sept 8th, join us for an interactive discussion featuring Dr. Peter Medgyessy (former Prime Minister of Hungary), Dr. Allan Rock (former Canadian Ambassador to the UN), Dr. Karen Smith (UN Secretary-General's Special Adviser on R2P), and Q/A moderated by Dr. Tom Axworthy (Secretary-General of the InterAction Council)!
AGENDA >>
A brief introduction by Dr. Tina Park (2 minutes)
Introduction of the panel by the Chair, Dr. Tom Axworthy (3 mins)
Remarks by Dr. Karen Smith (8-10 minutes)
Remarks by Dr. Peter Medgyessy (8-10 mins)
Remarks by The Hon. Allan Rock (8-10 mins)
Q/A session chaired by Dr. Tom Axworthy (about 25 mins)
Co-Hosted by: Canadian Centre for R2P & The InterAction Council
Co-Sponsored by : The Park Group & The NATO Association of Canada
The event is free and open to the public, but registration is required via Eventbrite. We will send you the Zoom link prior to the start of the event.
--------
What is R2P?
Responsibility to Protect is an emerging humanitarian principle which states that when a state or a government fails to protect its own people from mass atrocity crimes (genocide, war crimes, crimes against humanity and ethnic cleansing), the international community has the responsibility to do so.
---------
About our panel:
Dr. Thomas S. Axworthy is a distinguished senior fellow at the Munk School of Global Affairs, University of Toronto. Previously, he served as Senior Policy Advisor and Principal Secretary to Prime Minister Pierre Trudeau. In 1984, Dr. Axworthy joined Harvard University as a Fellow of the Institute of Politics at the Kennedy School of Government. He was subsequently appointed visiting Mackenzie King Chair of Canadian Studies. In 1999, Dr. Axworthy helped to create the Historica Foundation to improve the teaching and learning of Canadian history, becoming its Executive Director until 2005. To recognize his achievements in heritage education (he initiated the Heritage Minutes), civics, and citizenship, Dr. Axworthy was invested as an Officer of the Order of Canada (2002). In 2003, he became Chair of the Centre for the Study of Democracy, School of Policy Studies, Queen's University, pursuing the themes of expanded human rights and responsibilities, democratic reform, Canadian-American relations, and modern liberalism that characterized his research, teaching and advocacy career. In 2009, he became President and CEO of the Walter & Duncan Gordon Foundation. Dr. Axworthy has edited several publications, including Towards a Just Society: The Trudeau Years, with the most recent being Bridging the Divide – papers for the Interaction Council, (June 2008). He was awarded an honorary LLD from Wilfrid Laurier University (2003) and the Public Affairs Association Award of Distinction on November 26th, 2008 by the Public Affairs Association of Canada.
***
Dr. Péter Medgyessy was the Prime Minister of the Hungarian Republic from May 27 2002 to September 27, 2004, when he resigned in order to maintain the coalition. Between 2004 and 2008 he was in charge of international missions assigned by the Government. He started his career at the Ministry of Finance where he worked in various positions, including Deputy Minister of Finance, between 1966 and 1986. He was appointed Minister of Finance in 1987. His name was hallmarked by the establishment, in 1988, of a new tax-system (introduction of TVA and Personal Income Tax) and a banking system meeting the requirements of the market economy. Péter Medgyessy was Deputy Prime Minister responsible for Economic Affairs from 1988 until 1990 in the reform government of Miklós Németh, implementing the political changes. He led the process of economic liberalisation and the preparation of the corporate law that created the fundament of privatisation. He was President and Director General of Magyar Paribas (member of the French Paribas Group) from 1990 until 1994. From 1994 until 1996 he was President and Director General of the Hungarian Investment and Development Bank. From March 1996 to July 1998 he was again Minister of Finance. He brought a pension reform before the Parliament, which compelled appreciation also from OECD and other international institutions. From 1998 to 2001 he was Chairman of the Board of Inter-Európa Bank (San Paolo-IMI Group) and Vice President of Atlasz Insurance Company (member of the Australian QBE Group). He was Chairman of the Hungary-Hong Kong Business Association from January 2008 to February 2009, and he has been Honorary Chairman of the same Association since February 2009. He has published a large number of articles concerning budgetary and exchange rate policy and the monetary system in Hungarian and international financial and economic papers. He was Professor at the College of Finance and Accounting from 1973 until 1996. From 1994 to 1996 he was Chairman of the Hungarian Economic Association and Member of the Counsellor's Committee of the World Economic Forum. From 1995 to 1996 he was a member of the Board of Directors of the Hungarian Banking Association. From 1998 until 2000 he was a member of the Hungarian Atlantic Council.
***
The Hon. Allan Rock is President Emeritus of the University of Ottawa, and a Professor in its Faculty of Law, where he teaches International Humanitarian Law and Armed Conflict in International Law. He practised in civil, administrative and commercial litigation for 20 years (1973-93) with a national law firm in Toronto, appearing as counsel in a wide variety of cases before courts at all levels, including the Supreme Court of Canada. He was inducted in 1988 as a Fellow of the American College of Trial Lawyers. He is a former Treasurer (President) of the Law Society of Ontario. Allan Rock was elected to the Canadian Parliament in 1993, and re-elected in 1997 and 2000. He served for that decade as a senior minister in the government of Prime Minister Jean Chrétien, in both social and economic portfolios. He was Minister of Justice and Attorney General of Canada (1993-97), Minister of Health (1997-2002) and Minister of Industry and Infrastructure (2002-03). He was appointed in 2003 as Canadian Ambassador to the United Nations in New York during a period that involved responding to several complex regional conflicts, including those in Sri Lanka, Democratic Republic of Congo and Darfur. He led the successful Canadian effort in New York to secure, at the 2005 World Summit, the unanimous adoption by UN member states of The Responsibility to Protect populations from genocide, ethnic cleansing and other mass atrocities. He later served as a Special Envoy for the United Nations investigating the unlawful use of child soldiers in Sri Lanka during its civil war. In 2008, Allan Rock became the 29th President and Vice Chancellor of the University of Ottawa, a comprehensive university of 50,000 students, faculty and staff. uOttawa is ranked among the Top Ten in Canada for research intensity, and is the largest bilingual university (French-English) in the world. He completed two terms as uOttawa President in 2016.Allan Rock was subsequently a Visiting Scholar at Harvard Law School, associated with the Program on International Law and Armed Conflict. He is a member of the Transatlantic Commission on Election Integrity, and a Senior Advisor to the World Refugee Council.
***
Dr. Karen Smith was appointed as Special Adviser of the United Nations Secretary-General on the Responsibility to Protect in January 2019. She currently teaches International Relations at the Institute for History at Leiden University, the Netherlands, and is an honorary research associate at the University of Cape Town, South Africa, where she was an Associate Professor in the Department of Political Studies from 2011-2017. Before that, she taught at the universities of Stellenbosch (2000-2010) and the Western Cape (2003-2004), both in South Africa. Between 2006 and 2007, she served as Secretary-General of the United Nations Association of South Africa. Dr Smith holds a PhD in International Relations from Stellenbosch University (2005) and serves on the editorial boards of the journals Review of International Studies, Foreign Policy Analysis, Rising Powers Quarterly, and Journal of African Union Studies, among others. She has a research focus on non-Western contributions to international relations theory, as well as on regional and emerging powers, South Africa's foreign policy, and the changing global order.
***
Dr. Tina J. Park is the C.E.O. of The Park Group, a boutique consulting firm which specializes in providing cutting-edge solutions to emerging challenges and opportunities, with a particular focus on international security, Canadian foreign policy, and global governance. Since 2010, Dr. Park has also served as a Co-Founder & Executive Director of the Canadian Centre for the Responsibility to Protect, based at the University of Toronto. The CCR2P is a non-profit, non-partisan research organization aimed at advancing scholarly engagement and political implementation of the R2P principle. To date, Dr. Park has advised over thirty governments and regional organizations on their policies with regards to R2P and human rights, including the Inter-Parliamentary Union, NATO, the European Union and the InterAction Council. Dr. Park is co-author a several book chapters on R2P, including The Role of Business in the Responsibility to Protect (Cambridge University Press, 2016), and R2P and Cyber Space: Sovereignty as Responsibility (NATO CCD COE, 2020. An award-winning scholar, her Ph.D. research at the University of Toronto focused on a century of bilateral relations between Canada and Korea under the broader history of globalization in the 20th century. She is a frequent commentator in the media on issues related to North Korea and security in the Asia-Pacific region. Having recently returned to Canada after a fellowship appointment at the NATO Defense College in Rome, she serves as a Vice President and Director of the NATO Association of Canada, a fellow at the Bill Graham Centre for Contemporary International History, and remains as a proud alumna of Trinity College and Massey College.
---
To learn more about our co-hosts & co-sponsors, please check out:
- https://www.interactioncouncil.org/
- http://ccr2p.org/
- https://www.theparkgroup.ca/
- http://natoassociation.ca/