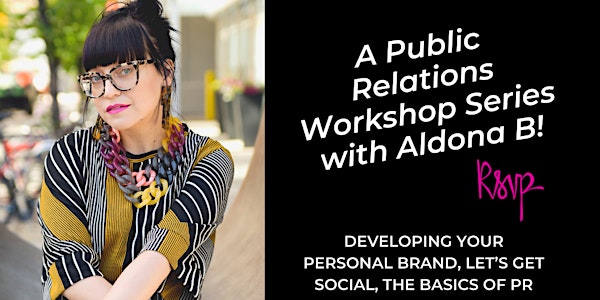 A Public Relations Workshop Series with Aldona B!
Developing Your Personal Brand, Let's Get Social, The Basics of PR
Refund Policy
Contact the organizer to request a refund.
Eventbrite's fee is nonrefundable.
About this event
A Public Relations Workshop Series with Aldona B!
Developing Your Personal Brand, Let's Get Social, The Basics of PR
Dancers' Studio West is thrilled to invite you to a workshop series hosted by Aldona B, founder of Aldona B Creative.
Aldona has been a Publicist for the past 12 years and she's worked with theatre companies, entrepreneurs and lifestyle brands. Her communications work includes helping businesses develop their brands, creating awesome social media content and supporting them in reaching various communications goals. Her Public Relations campaigns have landed her clients in a variety of publications and media outlets across the country.
About the Workshops
We know how difficult it can be to start showcasing you and your work, especially when you're first starting out, and it's usually a hot minute before you're able to hire professionals to help you market yourself and your brand. So we are offering you this series as a great introduction into three large topics that Aldona could talk about until the end of time - although in this case, we'll keep it to an hour and a half per session, including time for questions. The sessions will be virtual, so get comfy at home - we can't wait to see you on our screens!
SESSION ONE: Developing Your Personal Brand
Tuesday March 30, 2021 7 p.m.
Creating a personal brand can be daunting, and don't even get us started on then sharing that brand with the world. As an artist, whether you're working for another company or developing your own work, a personal brand is essential. In this first session we'll cover:
Developing a Brand Identity
Brand Strategy Elements
Brand Building Steps
SESSION TWO: Let's Get Social
Tuesday April 6, 2021 7 p.m.
It's all online and you should be too! In this second workshop we'll cover the Importance of Social Media, why you should get online, and the most effective strategies to sharing your brand in a very busy space. Oh yeah, and we can discuss pictures and words too.
Session Three: The Basics of PR
Tuesday April 13, 2021 7 p.m.
Getting yourself seen by the media is no easy feat. Before you have the funds to hire a publicist and get some professional help, we can start here by discussing what public relations can do for you and your business. We'll go over some PR strategies and tactics, including the Pitch!
These workshops can be attended as a series or as individual sessions, and are perfect for dance and theatre artists, smaller businesses and entrepreneurs in a creative field.
DSW Members: $50 for all three workshops, or $20 for a single session
Non-members: $60 for all three workshops, or $22 for a single session
(BTW, memberships are free! Follow this link to become a member of the DSW community: https://dancersstudiowest.ca/contact/ )
ABOUT ALDONA B CREATIVE
We are a collective of media, communications, fashion and beauty professionals based in Calgary, Alberta, who have exceptional experience producing branding, fashion and lifestyle content for websites, publications, marketing materials and more. Whether it's marketing initiatives, advertising, a branding strategy, website or graphic design projects, the Aldona B Creative Team is ready to help you accomplish all of your creative goals. Our publicity and communications portfolio includes theatre companies, lifestyle brands, artists, entrepreneurs and fashion boutiques.
ALDONA B BIO
After many years of working as a writer, photographer, publicist and communications specialist, Aldona decided to expand her horizons (and her team!) to be able to service a more dynamic range of clients from lifestyle brands and restaurants to theatre and fashion.
Her work also includes assisting fellow entrepreneurs to grow their businesses and help to identify their unique voice. Constantly striving to enhance our communities and our city's profile, it is her infectious passion for her work - and clients - that set her apart. She's also a personal stylist and has loved fashion since she was a little girl, stealing red lipstick from her mom's purse.
You can see more about Aldona and her A La Carte Communications and Visual services at aldonab.com.