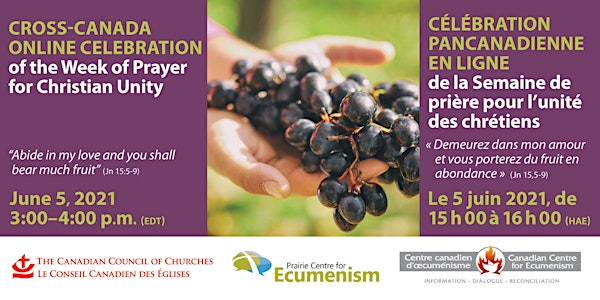 Abide in My Love | Demeurez dans mon amour
Pentecost prayer service for Christian unity | Prière de Pentecôte pour l'unité des chrétiens
Refund Policy
Contact the organizer to request a refund.
Eventbrite's fee is nonrefundable.
About this event
*** Faites défiler vers le bas pour la traduction française | Scroll down for the French translation ***
This Pentecost season, The Canadian Council of Churches and its ecumenical partners, The Canadian Centre for Ecumenism and The Prairie Centre for Ecumenism, invite you to
a special Christian unity event
Abide in My Love: Cross-Canada Online Celebration of the Week of Prayer for Christian Unity
Saturday, June 5, 3:00 - 4:00 pm EDT
For over 100 years, the Week of Prayer for Christian Unity (WPCU) has gathered Christians around the world in ecumenical prayer and fellowship.
While WPCU is traditionally celebrated January 18-25 in Canada, many communities have not been able to mark it this year because of COVID-19. The season of Pentecost is another traditional time for celebrating WPCU globally, and we warmly invite you to this special opportunity for Christians across Canada to gather and pray for unity on June 5, a date that falls between Western and Eastern Pentecost this year.
This year's WPCU theme, Abide in My Love and You Shall Bear Much Fruit (John 15:5-9), calls us to nourish unity with God and with one another through prayer, contemplative silence, and common action.
Leaders from diverse Christian traditions in Canada will offer prayers and Scripture readings.
The Rev. Michael Blair, General Secretary, General Council, The United Church of Canada, and His Eminence Gérald Cyprien Cardinal Lacroix, Roman Catholic Archbishop of Québec and Primate of Canada, will offer homiletic reflections.
This event is bilingual (English and French), with simultaneous translation in both languages.
Cost: This online celebration is free for all who would like to attend, but a small contribution of CD$10 to offset the cost of the event is welcomed.
Gathering as branches of Christ the True Vine, let us experience, and bear witness to, God's abiding love during this season of Pentecost!
For more information, please contact Maria Simakova, Program Coordinator, Faith and Witness, simakova@councilofchurches.ca
Learn about the Week of Prayer for Christian Unity: www.weekofprayer.ca
*****
En ce temps de la Pentecôte, le Conseil canadien des Églises et ses partenaires œcuméniques, le Centre canadien d'œcuménisme et le Prairie Centre for Ecumenism, vous invitent à
un service spécial de l'unité des chrétiens
Demeurez dans mon amour : Célébration pancanadienne en ligne de la Semaine de prière pour l'unité des chrétiens
Le samedi 5 juin, de 15 h 00 à 16 h 00 HAE
Depuis plus de 100 ans, la Semaine de prière pour l'unité des chrétiens (SPUC) rassemble des chrétiens du monde entier dans la prière et la fraternité œcuméniques.
Bien que la SPUC soit traditionnellement célébrée du 18 au 25 janvier au Canada, beaucoup de communautés on été incapables de la souligner cette année à cause de la COVID-19. Le temps de la Pentecôte est un autre moment traditionnel pour célébrer la SPUC à l'échelle mondiale, et nous vous invitons cordialement à cette occasion spéciale pour les chrétiens de tout le Canada de se rassembler et de prier pour l'unité le 5 juin, date qui tombe entre la Pentecôte occidentale et la Pentecôte orientale cette année.
Le SPUC thème de cette année, Demeurez dans mon amour et vous porterez du fruit en abondance (Jean 15,5-9), nous appelle à nourrir l'unité avec Dieu et les uns avec les autres par la prière, le silence contemplatif et l'action commune.
Des leaders de diverses traditions chrétiennes du Canada feront des prières et des lectures de l'Écriture.
Le rév. Michael Blair, secrétaire général, Conseil général, Église Unie du Canada, et Son Éminence M. le cardinal Gérald Cyprien Lacroix, archevêque catholique romain de Québec et primat du Canada, offriront des réflexions homilétiques.
Cette activité est bilingue (en anglais et en français), avec traduction simultanée dans les deux langues.
Prix : Cette célébration en ligne est gratuite pour tous ceux et celles qui souhaitent y assister, mais une petite contribution de 10 $ CA pour couvrir les frais est bienvenue.
Rassemblés comme des branches du Christ la Vraie Vigne, recevons et témoignons l'amour omniprésent de Dieu en ce temps de la Pentecôte!
Pour de plus amples renseignements, veuillez vous adresser à Maria Simakova, coordonnatrice des programmes, Foi et témoignage, simakova@councilofchurches.ca
Information sur la Semaine de prière pour l'unité des chrétiens : www.semainedepriere.ca