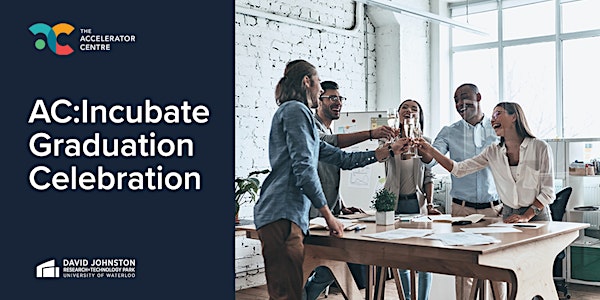 AC:Incubate Graduation Celebration
Come help us celebrate the companies who've shown us what it takes to join the ranks of Canada's top tech companies.
When and where
Location
Accelerator Centre 295 Hagey Boulevard Waterloo, ON N2L 6R6 Canada
About this event
AC Graduation
Oct 26, 2022 | 2:00 p.m. to 3:30 p.m. | In Person Event
Join us to celebrate the incredible startup journeys of The Owl Solutions, Baneks, Equator, SimpleDirect, Learning Snippets, and Technology Trace as they graduate from AC:Incubate.
After four phases, over 400 milestones, and years of riding the ups and downs of entrepreneurship, these companies have shown the world they have what it takes to join the ranks of Canada's top tech companies by completing AC:Incubate.
Our graduate wall is composed of the-best-of-the-best in Canadian tech. We're looking forward to celebrating with you as we add four more outstanding companies to the wall and launch our newest alumni into the next phase of their successful startup journey.
Agenda
Welcome and Opening Remarks | Jay Krishnan
Guest Speaker | Kurtis McBride, Founder and CEO, Miovision
Presentations from our graduating companies
Grad wall unveiling | Tabatha Laverty
Closing remarks | Tabatha Laverty
Refreshments and networking will follow the agenda.
Questions?
For more information, please contact the AC team at info@acceleratorcentre.com.
Learn more about our newest alumni:
The Owl Solutions: The Owl Solutions is a supply chain data analytics company that helps mid-sized businesses improve the performance of their operations by providing best-in-class visibility and expert support.
Baneks:Baneks is an online currency exchange platform and currency sharing platform enabling the fast movement of funds between China and other countries.
Equator: Maple Precision creates easy-to-use professional mapping software (Equator) that allows users to find, create and publish maps online.
SimpleDirect:SimpleDirect empowers small businesses to offer financing. It also helps consumers find the best-personalized rates within minutes.
Learning Snippets: Diversity and Inclusion Learning Snippets is a scenario-based microlearning program that creates measurable change in inclusive behaviors without compromising business productivity.
Technology Trace: Technology Trace is an IoT asset management solutions company, focused on developing intelligent, simple, dependable, and trusted inventory management solutions for healthcare enterprises.

We love our community and like to show it off.
As we adapt to a new normal, please be advised that our Accelerator Centre virtual sessions will be recorded and shared with session participants and Accelerator Centre clients and may be used on our website and social platforms. By attending this session, you consent to be recorded and your comments may be used at the discretion of the Accelerator Centre.