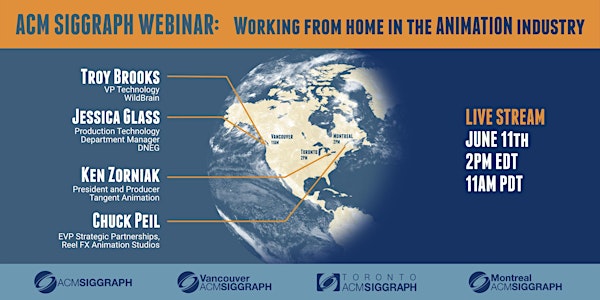 ACM SIGGRAPH Webinar: Working from home in Animation
We're proud to present the second online event in our ACM SIGGRAPH Webinar series: Working from Home in Animation!
About this event
The CG industry has been working from home for nearly an entire quarter. In our follow-up to the "Working from Home in VFX" discussion, representatives from three animation studios will share their experiences with the transition to working from home as well as the long-term effects the pandemic may have on the industry.
The "Working from Home in Animation" panel will take place on Thursday, June 11 at 2 PM EDT / 11AM PDT and be moderated by Jessica Glass, Production Technology Department Manager, DNEG. Jessica will be leading the discussion with the following panellists:
Chuck Peil, EVP Strategic Partnerships, ReelFX Animation Studios
Ken Zorniak, CEO, President and Producer, Tangent Animation
Troy Brooks, VP Technology, WildBrain Studios