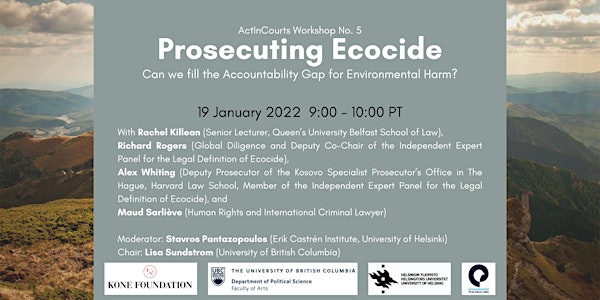 ActInCourts Roundtable: Prosecuting Ecocide
Can we fill the Accountability Gap for Environmental Harm?
By Activists in International Courts Network
Date and time
Wednesday, January 19, 2022 · 9 - 10am PST
About this event
For the fifth Practitioner-Scholar Roundtable hosted by the ActInCourts Network (UBC), The Toxic Crimes Project at the Erik Castrén Institute of International Law and Human Rights (University of Helsinki), and the Law Interest Group of the Environmental Peacebuilding Association we will discuss the potential of prosecuting ecocide and the associated risks.
Since the inception of the idea to define and criminalize environmental harm in the 1970s, today there is a renewed momentum and support to address accountability for environmental harm. In June 2021 an Independent Expert Panel for the Legal Definition of Ecocide ('Panel'), convened by the Stop Ecocide Foundation, proposed a new definition of ecocide as an international crime. Having received both positive and critical responses, this renewed effort might initiate a process to amend the Rome Statute of the International Criminal Court (ICC) with Ecocide becoming the Fifth International Crime.
The virtual panel will discuss the challenges of defining and prosecuting ecocide, how to fight against impunity of environmental crimes in practice, and the limitations of the proposed definition. The discussion will be led by:
Zoom link available after registration.
Disclaimer: Please note that by registering via this service, your information will be stored on the Eventbrite server, which is located outside Canada. If you do not wish to use this service, please email cjtenove@mail.ubc.ca directly to register. Thank you.