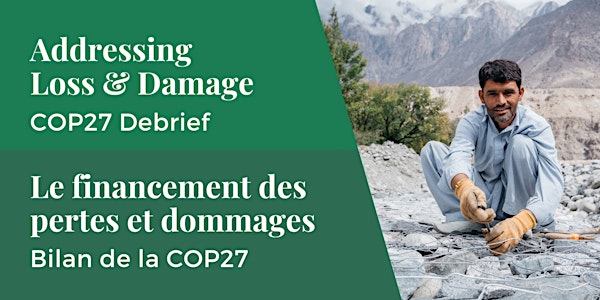 Addressing Loss and Damage - COP27 Debrief
Climate change loss and damage financing is up for discussion at COP27, what will be the outcome?
When and where
Location
Delegation of the Ismaili Imamat 199 Sussex Drive Ottawa, ON K1N 1K6 Canada
About this event
English version *** la version française suit***
The unprecedented monsoon rains and flooding affecting Pakistan in 2022 have impacted upwards of 33 million people and claimed an estimated 1,700 lives. Tragically, Pakistan sets a strong example of why loss and damage financing is critical to recovering from adverse climate impacts that outstrip people's capacity to adapt to climate change.
With loss and damage financing on the negotiating table at COP27, it may end a long history of sidelining the discussion and create a roadmap to address the unfolding climate crisis.
On December 1, join Aga Khan Foundation Canada for a COP27 debrief conversation on the emergence and outcome of loss and damage financing as a critical issue. This panel discussion will feature representatives from the International Development Research Centre and Aga Khan Agency for Habitat on the following key areas:
Outcomes of COP27 regarding loss and damage financing
Challenges of multi-country partnership on loss and damage financing
Canada's position on loss and damage financing leading in to and post COP27
Aga Khan Development Network's response to flooding in Pakistan and approach on long-term recovery
Key information for attendees:
When you register, please indicate your interest to attend in-person at the Delegation of the Ismaili Imamat or to attend online (Zoom) by selecting the relevant ticket option.
In-person attendees are welcome to arrive by 9:00am, to network and enjoy light refreshments.
Speakers
Erin Tansey, Director of the International Development Research Centre's Sustainable Inclusive Economies program.
Erin joined IDRC in November 2020. She brings over 20 years of experience in international development and humanitarian sectors within Canadian and international non-governmental organizations, United Nations agencies, and bilateral development programs. She worked with the World University Service of Canada in Malawi, CARE Canada in Bosnia Herzegovina, the United Nations Refugee Agency in Thailand, Algeria and Ghana, the United Nations World Food Programme in various countries in sub-Saharan Africa, and with the United States Agency for International Development in Pretoria, South Africa. Erin has worked on various applied research projects and was the coordinator of research for the International Organization for Migration's Partnership on HIV and Mobility in Southern Africa, generating new evidence and thought leadership in applied policy in this field.
Most recently, Erin worked on a governance program with Global Affairs Canada together with the South African government. She holds a Bachelor of Arts in Political Science and French Literature from the University of Western Ontario and a Master of Arts in Political Science from the University of Windsor.
Nusrat Nasab, CEO Aga Khan Agency for Habitat Pakistan
Nusrat Nasab has been working in the field of Development and Disaster Risk Reduction for over two decades. Currently she is the Chief Executive Officer at the Aga Khan Agency for Habitat Pakistan. Prior to this role, she was on an international assignment and serving as Head of Emergency Management at the Aga Khan Agency for Habitat (AKAH). Prior to this assignment, she served as the Chief Executive Officer of Focus Humanitarian Assistance, Pakistan and worked on senior management positions within other institutions of the Aga Khan Development Network (AKDN). She also serves voluntarily as member Director on various boards of governance on reputed institutes. Her academic background is with a Master's degree from University of East Anglia, Norwich UK in Development Economics and another degree in Economics from Pakistan.
Nisha Krishnan, Director for Climate, Africa at World Resources Institute
As the Director for Climate Resilience, Africa, Nisha leads a team that is focused on advancing policy and practice on climate action, adaptation, and loss and damage for our regional team. Previously, she was a Senior Climate Finance Associate at WRI's Climate Resilience Practice, where she also led the Finance track of the Global Commission on Adaptation's Year of Action. Nisha currently serves on the UNFCCC's Expert Group on Action and Support under the Warsaw International Mechanism. Her work focuses on advancing research and practice to integrate climate risks, adaptation, and resilience into public and private decision-making processes, locally led adaptation and finance on the continent, governance of adaptation and loss and damage, and working with community organizations and African civil society to address accountability for adaptation and loss and damage finance. She supports WRI's wider portfolio on financing adaptation and loss and damage.
Moderated by Kate Higgins, CEO Cooperation Canada
Kate recently joined Cooperation Canada as Chief Executive Officer. She is an accomplished leader and experienced manager, with over fifteen years of experience in international development, civil society, think tanks, and government. Before joining Cooperation Canada, Kate was the Deputy Executive Director of Oxfam Canada, where she led the organization's work on strategy and communications and spearheaded several organizational change initiatives, in addition to serving as Interim Executive Director in 2020. Kate worked for CIVICUS, a global alliance of civil society organizations, where she led strategy development and the organization's work on data, sustainable development, and citizen action. She has held senior policy and research roles at the North-South Institute and the Overseas Development Institute, leading work on chronic poverty, protracted conflict, women's economic justice and international assistance and building several global, multi-stakeholder initiatives. Kate started her career at the Australian Agency for International Development (AusAID), working on the Indonesia and Papua New Guinea programs. She has lived and worked in Australia, Canada, Papua New Guinea, South Africa, Thailand, and Uganda and has undertaken missions in several other countries. Kate has degrees in economics and development studies from the University of Oxford and the University of Sydney.
Version française *** The English version precedes ***
Les pluies de mousson et les inondations sans précédent qui ont touché le Pakistan en 2022 ont affecté plus de 33 millions de personnes et ont fait environ 1 700 victimes. Le Pakistan illustre bien la raison pour laquelle le financement des pertes et dommages est essentiel pour se remettre des impacts climatiques négatifs qui dépassent la capacité des populations à s'adapter aux changements climatiques.
En plaçant le financement des pertes et dommages sur la table des négociations de la COP27, on pourrait mettre fin à une longue histoire de mise à l'écart de cet enjeu et créer une feuille de route pour affronter la crise climatique en cours.
Le 1er décembre, joignez-vous à la Fondation Aga Khan Canada dans le cadre d'un bilan de la COP27. La conversation portera sur l'émergence et le résultat du financement des pertes et dommages en tant que question critique. Cette discussion en panel réunira des représentants du Centre de recherches pour le développement international et de l'Agence Aga Khan pour l'habitat, et portera sur les questions clés suivantes :
Résultats de la COP27 concernant le financement des pertes et dommages
Défis d'un partenariat multipays sur le financement des pertes et dommages
Position du Canada quant au financement des pertes et dommages avant et après la COP27
Réponse du Réseau Aga Khan de développement aux inondations au Pakistan et approche du rétablissement à long terme
Renseignements importants pour les participants :
Lors de votre inscription, veuillez indiquer si vous souhaitez assister en personne à la Délégation de l'imamat ismaili ou assister en ligne (via Zoom), en sélectionnant l'option de billet correspondante.
Les participants en personne sont invités à arriver à 9 h , afin de réseauter et de profiter de rafraîchissements légers.
Panélistes
Erin Tansey
Erin est la directrice du programme Économies inclusives durables du Centre de recherches pour le développement international (CRDI).
Erin s'est jointe au CRDI en novembre 2020. Elle apporte plus de 20 ans d'expérience dans les secteurs du développement international et de l'humanitaire au sein d'organisations non gouvernementales canadiennes et internationales, d'agences des Nations unies et de programmes de développement bilatéraux. Elle a travaillé pour l'Entraide universitaire mondiale du Canada au Malawi, CARE Canada en Bosnie-Herzégovine, l'Agence des Nations Unies pour les réfugiés en Thaïlande, en Algérie et au Ghana, le Programme alimentaire mondial des Nations Unies dans divers pays d'Afrique subsaharienne et l'Agence des États-Unis pour le développement international à Pretoria, en Afrique du Sud. Erin a travaillé sur divers projets de recherche appliquée et a coordonné la recherche pour le partenariat de l'Organisation internationale pour les migrations sur le VIH et la mobilité en Afrique australe, générant de nouvelles preuves et un leadership éclairé en matière de politique appliquée dans ce domaine.
Plus récemment, Erin a travaillé sur un programme de gouvernance avec Affaires mondiales Canada en collaboration avec le gouvernement sud-africain. Elle est titulaire d'un baccalauréat ès arts en sciences politiques et en littérature française de l'Université de Western Ontario et d'une maîtrise ès arts en sciences politiques de l'Université de Windsor.
Nusrat Nasab, directrice général, Aga Khan Agency for Habitat Pakistan
Nisha Krishnan
Ambassadrice pour les changements climatiques
Catherine Stewart a été nommé L'ambassadrice pour les changements climatique en août 2022. Avec plus de 25 années au sein du gouvernement fédéral, le rôle le plus récent de Catherine Stewart était celui de sous-ministre adjointe des Affaires internationales à Environnement et Changement climatique Canada. Depuis 2014, elle a occupé des postes de direction à ECCC, notamment en tant que négociatrice en chef du Canada pour le changement climatique, directrice générale des affaires multilatérales et du changement climatique, et directrice générale pour les Amériques. Avant de se joindre à ECCC, Catherine a été directrice des Politiques stratégiques et de l'intégration pour le Secrétariat national d'acquisition des avions de chasse et a occupé un poste de direction au Bureau du Conseil privé. Elle a également travaillé sur les politiques de défense et de sécurité au sein du ministère de la Défense nationale pendant une décennie, couvrant des domaines tels que les affaires du Cabinet, la rédaction de discours ministériels et la participation du Canada à l'Alliance de l'OTAN. Avant de se joindre au gouvernement fédéral, Catherine a travaillé à une mission électorale et de maintien de la paix des Nations Unies au Mozambique. Elle détient un baccalauréat ès arts de l'Université McGill et une maîtrise en administration publique de l'Université Carleton. Catherine est mariée et a trois fils.
Cet événement sera animé par Kate Higgins, directrice général de Coopération Canada