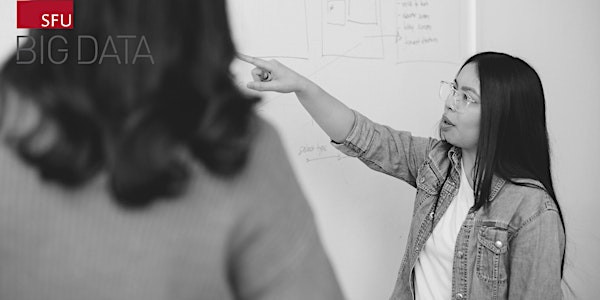 Advances in Marine Data Science
A one-day interactive online session highlighting the use of data driven techniques in marine sciences.
About this event
Overview
SFU's Big Data Hub is offering a one-day interactive online session, focused on highlighting the use of data driven techniques to solve some of the most challenging issues affecting marine science practitioners. With a series of speaker presentations, featuring researchers/groups from a range of institutions and organizations, participants will be able to explore issues related to data, techniques, and results, with a goal to build on opportunities for future collaborations.
Tuesday, August 24th at 9:00am – 2:00pm PDT
Speakers
Marc-Antoine Drouin, Senior Research Officer, National Research Council of Canada
Nick Dulvy, Professor, Marine Biodiversity & Conservation, Simon Fraser University
Fabio Frazao, Senior Software Developer, Dalhousie University, MERIDIAN
Ruth Joy, School of Environmental Science, Simon Fraser University
Bruno Padovese, Data Analyst, Dalhousie University, MERIDIAN
Youlian Pan, Senior Research Officer in Digital Technologies, National Research Council of Canada
Sadman Sakib, Deep Learning Developer, Dalhousie University, MERIDIAN
Xuekui Zhang, Assistant Professor & Canada Research Chair, University of Victoria
Schedule
Welcoming
Roundtable and discussions
Biggish Data Approaches to Solve Big Shark Conservation Problems presented by Nick Dulvy
Building a Real-Time Forecast System for Movement of Endangered Whales Near Coastal Shipping Lanes presented by Ruth Joy
Learning From Big Historical Geospatial Data on Environmental Impact to Shellfish Industry presented by Youlian Pan and Xuekui Zhang
Towards Data-Driven Mission Planning for Marine Megafauna Surveys presented by Marc-Antoine Drouin
Deep Generative Methods for Acoustic Data Augmentation presented by Bruno Padovese
Acoustic Detection and Classification of Killer Whales with Deep Neural Networks presented by Sadman Sakib
Ketos: An Open-Source Deep Learning Package for Underwater Acoustics presented by Fabio Frazao
Networking
Networking
You will have an opportunity to network with the speakers to learn more about their research, career, and to ask questions.
About MERIDIAN
Marine Environmental Research Infrastructure for Data Integration and Application Network (MERIDIAN) is a multi-institutional consortium of ocean researchers, computer and data management professionals that are developing a research data infrastructure to consolidate and support the national and international ocean acoustic and vessel tracking (AIS – Automatic Identification System) community. We have teams located in British Columbia, Nova Scotia and Québec, including researchers from Dalhousie University, Simon Fraser University, Université du Québec à Rimouski, University of British Columbia and University of Victoria.
About the NRC
The National Research Council of Canada (NRC) is Canada's largest federal research and development organization.
The NRC partners with Canadian industry to take research impacts from the lab to the marketplace, where people can experience the benefits. This market-driven focus delivers innovation faster, enhances people's lives and addresses some of the world's most pressing problems. We are responsive, creative and uniquely placed to partner with Canadian industry, to invest in strategic R&D programming that will address critical issues for our future.
Each year our scientists, engineers and business experts work closely with thousands of Canadian firms, helping them bring new technologies to market. We have the people, expertise, services, licensing opportunities, national facilities and global networks to support Canadian businesses.
About SFU's Big Data Hub
Simon Fraser University leverages the power of big data so Canada can lead in a digital world. With over a decade of leadership in the big data field, SFU's Big Data Hub engages with our partners to fill critical talent shortages, generate new knowledge and contribute to an innovative economy. We connect government to industry and the community to deliver data-driven solutions to challenging problems. With 24 governmental partners and over 100 companies actively engaged, we are empowering people to use data for impact and social good to solve global challenges and transform society.