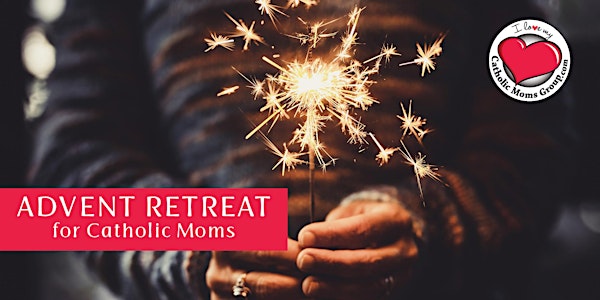 Advent Retreat
Live Online Advent Retreat for Catholic Moms
Refund Policy
Contact the organizer to request a refund.
Eventbrite's fee is nonrefundable.
About this event
Speakers:
Dr. Josephine Lombardi: Preparing in Hope
In his Letter to the Romans, St. Paul invites us to rejoice in hope, to endure during times of struggle, and to persevere in prayer. Dr. Josephine Lombardi will reflect on the need to cultivate three key attitudes during Advent: Joy, Patience, and Perseverance.
Dorothy Pilarski: How is Advent different this year?
Mary Wagner and Teresa Harnett will join us to pray the Rosary! They'll share some thoughts too! Exactly how is Advent different this year? Mary and Teresa will pipe in!
Mary Wagner, Teresa Hartnett and Dorothy will discuss how Advent really is different this year.
Michelle Sachs: Making Spirits Bright
Preparing for Christmas during Advent has a long, rich history, and yet remains just as important a season today! In a world where it is often easy to become swept up and distracted by our worries and our to-do lists, what we do at home can have such a beautiful impact on how we and our families prepare. From learning about grand traditions to seeking out lovely little ways in our day-to-day lives, how we approach this season of Advent can truly help "make spirits bright" and draw us all deeper into the wonder and awe of waiting for the coming of Jesus at Christmas!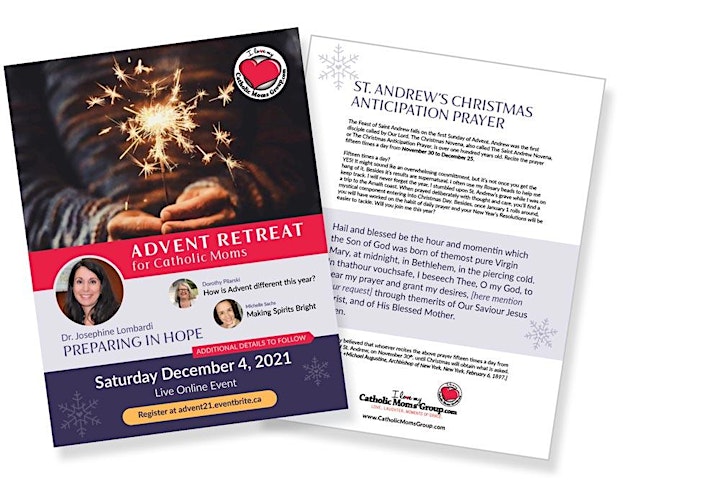 Dr. Josephine Lombardi
Dr. Lombardi is an award-winning author and documentary film maker who has worked as a parish minister, university campus minister, high school chaplaincy leader, teacher educator through O.E.C.T.A., professor of Religious Education, Brock University, retreat facilitator, faith formation consultant, and program coordinator in the Diocese of Hamilton. Presently, she is Associate Professor of Pastoral and Systematic Theology, and Director of Lay Formation for St. Augustine's Seminary in Scarborough, Ontario. She has done media work in radio and television and has been an advisor to the Canadian Conference of Catholic Bishops in the area of doctrine and Catholic-Muslim relations. Her books On Earth as it is in Heaven and Experts in Humanity have been featured on Salt and Light TV. Experts in Humanity was awarded first place in the category of Family Life by the Catholic Press Association of the United States and Canada in 2017.
She is the Series Theologian for the new Religious Education resource for grades 1 through 8, "Growing in Faith, Growing in Christ" for Catholic School Boards in Ontario, Alberta and Saskatchewan.
Michelle Sachs
Michelle Sachs is a co-host of The Modern Lady Podcast and a homemaker living in Southwestern Ontario with her husband and their four kids. She tries to balance her love for producing and reading with the adventures of homeschooling and family life. You can follow her escapades on Instagram @mmsachs.
Dorothy Pilarski
Dorothy Pilarski is a veteran speaker, facilitator, learning specialist, corporate trainer, author, and coach. She has more than 20 years of experience as a consultant with international experience, often leading projects with stellar results.
Dorothy delivered customer service programs for Fortune 500 executives at the Schulich Executive Education Centre for over 10 years and was rated as one of the schools top instructors.
With a solid track record in marketing communications Dorothy and her team have often written, designed, brochures, posters, pamphlets, newsletters and booklets for clients.They have written more than one press release. Her team has also spear headed many events from conception, executing and strategically promoting them to specific publics.
With a background in Marketing, Public Relations, Volunteer Management and Adult Education, Dorothy makes a great addition to any project whether it's in the corporate, non profit or a Faith community.
Dorothy is the founder of CatholicMomsGroup.com, the annual Dynamic Women of Faith Conference and Calling All Girls events. Her writing has been featured in the Catholic Register, she is the author of two books and is a radio host on Radio Maria. Dorothy helped create a TV program and she facilitates discussions between women in a series produced by Salt & Light Media.
Mary Wagner
Jesus won Mary's heart many years ago and she seeks to live the Gospel of Life, in his footsteps. She graduated from English and Romani studies at the University of British Columbia. Coming from a large Catholic family, Mary has become an internationally-known pro-life hero. She has approached women who have decided to have an abortion, in private abortion clinics praying and handing out white roses giving them pamphlets about the value of human life. In violating Ontario's "bubble zone" laws and breaking them 14 times in 18 years, Mary has spent in total nearly five years in prison.
Teresa Hartnett
Teresa Hartnett (M.R.E.) is in her 18th year as Director of Family Ministry for the Diocese of Hamilton. She has her Masters in Religious Education from St. Augustine's Seminary/University of Toronto, a degree in Kinesiology from McMaster University, a Bachelor of Education from Brock University, and is certified in a number of family, counselling, marriage and relationship programs. She has been the Executive Director of Birthright Pregnancy Service in Hamilton for 32 years and in 2004 implemented and now oversees Project Rachel in the Hamilton Diocese.
She is passionate about helping individuals, couples and families to grow strong, healthy and happy in both how they live and in their faith! Teresa undertakes numerous speaking engagements across Ontario and Canada each year and teaches for both St. Peter's Seminary and the Halton Catholic School Board's Staff Religion courses.
She believes her most important role is in her family as a wife of Joe, mother to her four children and grandmother to six beautiful grandchildren.