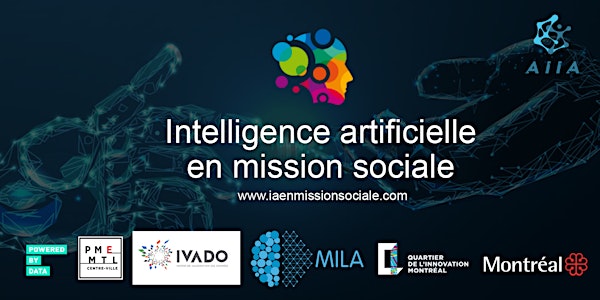 AI on a Social Mission / Intelligence Artificielle en Mission Sociale
Location
Canadian Centre for Architecture
1920 Rue Baile
Montréal, QC H3H 2S6
Canada
Refund policy
Refunds up to 30 days before event
Description
Intelligence Artificielle en Mission Sociale - AI on a Social Mission (See English version below) est un événement majeur dédié aux impacts sociaux de l'intelligence artificielle et l'occasion de s'inspirer de projets qui mettent l'intelligence artificielle au service de missions sociales.
Qu'est-ce que peut faire ou ne pas faire l'intelligence artificielle? Où en est la science du machine et deep learning et comment, concrètement, peut-on soutenir des projets qui utilisent l'IA pour des missions sociales? Nos données sont elles protégées et sont-elles mis au profit de nos besoins?
Des panels de discussions stimulerons nos réflexions entre autre sur la gestion des données dans un contexte sans but lucratif, des données ouvertes et de la gouvernance, des impacts sur les droits de la personne, être entrepreneur à mission sociale, défis et satisfaction et comment rendre l'IA plus accessible.
Un événement qui réunit l'écosystème de l'intelligence artificielle et celui de l'entraide pour s'inspirer, réseauter et s'outiller.
Panels et groupes de discussions multidisciplinaires: seront rassemblés des experts en intelligence artificielle, en science des données, en innovation sociale, des intervenants sociaux, chercheurs en éthiques, juristes, des planificateurs en financement et en gouvernance. Les détails du programme sont sous l'onglet Programme de notre site web.
Sur le formulaire d'inscription, vous verrez qu'il y a des questions liées à votre rôle ou votre secteur d'activité. En répondant à ces questions, vous nous permettez de créer des groupes de discussions vraiment multidisciplinaires.
www.iaenmissionsociale.com
AI on a Social Mission is an inaugural conference on the social impact of AI in Montreal.
Start ups and NPOs will explain how they use artificial intelligence for their social mission. They will also share with us their experience as a start up or non-profit with a social mission and their dreams for AI and social good.
The event presents brilliant and passionate keynote speakers and panelists that believe in sharing knowledge and supporting a fair and sustainable implementation of AI. You'll leave with a better understanding of the social impacts of artificial intelligence as well as share your voice on supporting AI with a social mission.
MULTIDISCIPLINARY PANELS: AI, data, social scientists, ethicists, jurists, funding and policy experts come together on social impact of AI. Panels will discuss, open data and governance, managing data in a not for profit conext, being an entrepreneur with a social mission, challenges and satisfactions, access to AI, impact of AI on human rights. Check program details on our website.
SMALL MULTIDISCIPLINARY DISCUSSION GROUPS: In small groups, we'll dream up our ideal AI implementation and take a close look at the tools to make it a reality. Inspired by our start ups and non profits with a social mission and our expert panelists, we'll look into how our society can support non-profit initiatives and socially oriented enterprises. We'll brainstorm together in multidisciplinary groups and plan towards concrete ways of achieving a fair and sustainable implementation of AI.
This is your voice on a fair and sustainable implementation of AI.
www.aionasocialmission.com