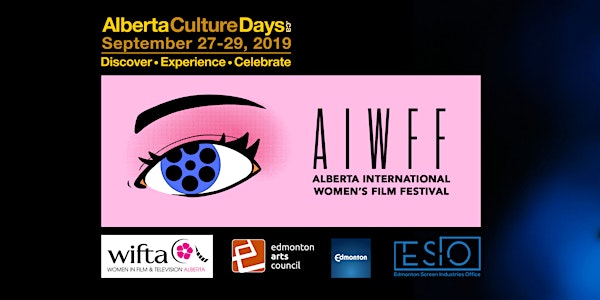 AIWFF Family Friendly Screening
WIFTA welcomes you and your family to a FREE screening of animated shorts and educational documentaries as part of Alberta Culture Days!
When and where
Location
Shaw Theatre 11762 106 Street Northwest Edmonton, AB T5G 3H6 Canada
About this event
Squeaks & Cheeks (Canada Animation) 00:07:32
Cheeks, a fun-loving bunny in a wheelchair, and Squeaks a problem-solving piggy with a plan, are two young detectives who solve silly mysteries for their friends in this engaging stop-motion animated series.
The Girl Who Talks to the Moon (Canada animation) 00:05:18
The Girl Who Talks to the Moon is a web-series funded by the CBC in Canada. It follows the adventures of an inquisitive girl named Harmony who lives on the magical island of Haida Gwaii. Every night before she falls asleep, the moon gives Harmony a fun task, like learning how to make a kite. In her dreams Harmony completes the task with the help of friendly animals. Along the way she learns about the ancient Haida language through song and play. The show is a combination of stopmotion animation, live action and hand puppets. Pilot Episode Synopsis: Wanting a new toy, Harmony learns how to make a kite from Ýuuya the Raven.
Stories from the Seventh Fire (Canada animation) 00:13:30
An excellent lesson in humility and working for stature! Wesakechak feels he deserves a more powerful name. He convinces his fellow creatures to ask the Creator to give out new names. Wesakechak becomes so fixed on being the first in line at the naming ceremony that he tries to stay awake all night. Of course, he falls asleep towards dawn and is so late for the ceremony that he ends up with his old name. But the Creator gives him a new job - he will become the teacher of the First People. This way he will make his name important, not the other way around.
Wildfiles: Feather of Hope (Canada drama) 23:00
Chris receives 'animergency' call at the Wild Files research station from Terri, who has found a sick Peregrine Falcon. Chris takes Terri and the Peregrine to see raptor expert Dr. Gord Court, who discovers that she has the West Nile Virus. It's up Terri and falconer Alastair Franke to help her return to the skies.
Drawn to You (Canada animation)
Young Emily didn't see anything wrong with her drawing of two girls holding hands, but her mother saw otherwise and tore both the paper and her child's heart in two. Little did they know, the drawings had come alive and are determined to reunite with one another across the vast bedroom of pages, no matter what risk comes their way. An adventurous and heartwarming tale, "Drawn to You" shows audiences both the struggles and joy that comes with being true to your heart, and not letting others tell you who to be.
Sustainable Me, the Water Stories (Canada documentary) 00:21:22 -
Water is the soul of the earth. W H Auden's poetry inspires this imperative journey to understand the earth's hydrologic cycle.
______________________________________________
The Alberta International Women's Film Festival is part of Alberta Culture Days, with support from the Government of Alberta, Edmonton Art's Council, and the Edmonton Screen Industries Office.
Presented and curated by the Women in Film and Television Alberta (WIFTA) and sponsored by ACTRA Alberta, William F. White, Film and Video Association of Alberta (FAVA).
If you would like to become a member of WIFTA or volunteer at our upcoming events, find us at www.wifta.ca.