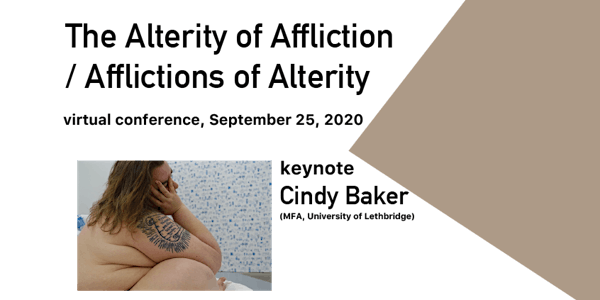 Alterity of Affliction / Afflictions of Alterity - 2020 CSPT Conference
"Whatever pain achieves, it achieves in part through its unsharability..." – Elaine Scarry, The Body in Pain
About this event
*Access the link to the webinar on Sept. 25 by clicking on the "Go to online event page" button on your ticket (received via email).
**Note, the webinar will be recorded and published online for those who cannot make the event. Attendees are not required to use their cameras, microphones, or any other identifying information.
The Cultural, Social and Political Thought program at the University of Victoria, British Columbia, is pleased to announce our annual graduate student conference to be held September 25, 2020. We situate our conference on the traditional territories of the Songhees, Esquimalt and W̱SÁNEĆ peoples, whose relationships to the land continue to this day. This conference seeks to facilitate an interdisciplinary and multidisciplinary discussion about the limitations and new horizons of discourse on pain. How do we come to know and recognize pain in the other? In the self? And, how might we reconstruct what is lost after pain?
[KEYNOTE FROM CINDY BAKER]
Resisting Productivity: Good Bodies, Bad Bodies, And Other(Ed) Bodies:
Contemporary cultural imperatives of productivity conflate beauty with health, and frame heath as a moral issue. Othered (disabled, fat, racialized, queer, etc) bodies are therefore understood to be less valuable in very concrete and measurable ways, their lack of productivity making them less deserving of resources and support. This talk will focus on how, through my own work, I've harnessed several theories of resisting representation to develop generative ways of subverting productivity and contesting the status quo.
[ABOUT CINDY BAKER]:
Cindy Baker is a contemporary artist based in Western Canada whose work engages with queer, gender, race, disability, fat, and art discourses. Committed to ethical community engagement and critical social enquiry, Baker's interdisciplinary research-based practice draws upon 25 years working, volunteering, and organizing in the communities of which she is part. She moves fluidly between the arts, humanities, and social sciences, emphasizing the theoretical and conceptual over material concerns. Baker holds an MFA from the University of Lethbridge where she received a SSHRC grant for her research in performance in the absence of the artist's body; she has exhibited and performed across Canada and internationally. Helping found important community and advocacy organizations over the course of her career, Baker continues to maintain volunteer leadership roles across her communities.