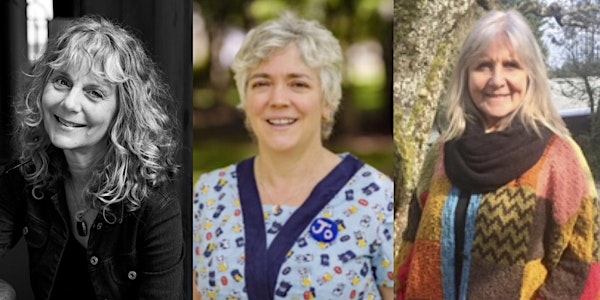 An Afternoon in the Park with Susan Lundy and Jo Owens
An Afternoon in the Park with Susan Lundy, Jo Owens, and Sylvia Olsen. Admission by donation ($10 suggested)
When and where
Location
Pioneer Park 7130 West Saanich Road Brentwood Bay, BC V8M 1P8 Canada
About this event
Join us for an afternoon in Brentwood Bay's Pioneer Park with Susan Lundy and Jo Owens
Susan Lundy has been a writer since the age of six, when she re-invented the lemonade stand by selling handmade books at roadside booths. Today, she is a multiple-award-winning writer—including a two-time recipient of the prestigious Jack Webster Award of Distinction—with a thirty-five-year career in print journalism. She is well known throughout B.C. as the managing editor of Boulevard magazine and is also the author of the book Heritage Apples.
Jo Owens was born in Alberta. She has an English Degree from he University of Victoria and has worked as a Care Aide at Mount Saint Mary's Hospital for more than 20 years and loves her work. When her two children were little, she wrote a memoir called Add Kids, Stir Briskly, which was published by Horsdal and Schubert. A Funny Kind of Paradise is her first novel. Publisher's Weekly calls it a "believable, touching portrait … loaded with moments of beauty amid the swirl of regret and nostalgia".
Sylvia Olsen is an adult educator and facilitator specializing in First Nations housing. She married into the Tsartlip First Nation near Victoria, BC, and developed relationships with Coast Salish knitters through her family's sweater shop. Olsen was inspired to explore the juncture of her English/Scottish/European heritage and Coast Salish life experiences, bringing to light deeply personal questions about Canadian knitting traditions. She is the author of over twenty books for adult and children, including Working with Wool: A Coast Salish Legacy and the Cowichan Sweater, which was awarded the Lieutenant Governor's Medal for Historical Writing. Unravelling Canada: A Knitting Odyssey is her cross-Canada cultural road trip.