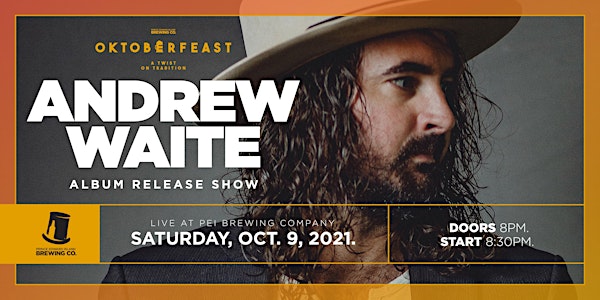 Andrew Waite Album Release Show
Ages 19+
PEI Brewing Company
Andrew Waite: Album Release Show
When and where
Location
Prince Edward Island Brewing Company 96 Kensington Road Charlottetown, PE C1A 5J4 Canada
About this event
Join us at the PEIBC Events Center after Okto-Beer-Feast and enjoy the Andrew Waite Album Release Show! Featuring Waite's full band, the Firm, as well as opening act Joce Reyome.
After many successes with his debut solo album, Tremors (2018), Andrew Waite will be releasing a self-titled sophomore album, produced by Newfoundland's Chris Kirby.
The new album marks a fresh path in many ways for Andrew Waite. His first time collaborating with Kirby, this album also sees a number of co-writes with The Trews frontrunner, Colin MacDonald, including his most recent single release "Full Time, Tryin' 2 Luv", which was accompanied by a particularly unique video.
Please note we want to ensure extra precaution to ensure social/physical distancing will be maintained, and to follow CPHO guidelines and public health measures. Therefore we've adjusted the tables to rectangles, not rounds, providing more space between seats. Seats 1 through 4 at each table will be on the left hand side, while seats 5 through 8 will be on the right.
PEIBC Catering & Events: Covid Procedures
• All guests must show their government-issued vaccination record along with a valid government issued photo ID, sign in upon entrance and provide contact information for contact tracing purposes. If you are a PEI resident, you can get your vaccination record HERE.
• Masks are mandatory for all guests unless seated, eating, or drinking.
• Masks are recommended if sitting at a table with people you may not/do not know.
• Garbage cans will be placed around the room to encourage guests to dispose of their own glassware.
• Social and physical distancing must be practiced for the duration of the event.
• Inter-table and inter-pod mingling is not permitted.
• Please follow the flow of traffic arrows when getting up from your table.
• Please stay seated as often as possible.
Staggered check in & out / washrooms
Cohort 1: Tables 1-8 check in between 7:45pm & 8:00pm
• Will use the main washroom upstairs on the second floor.
• Will exit second after the event.
Cohort 2: Tables 9-20 check in between 8:00pm & 8:15pm
• Will use the washrooms on the main floor, located underneath the stairs.
•Will exit first after the event.
If guests are late for their designated check in time they will be asked to wait until guests have checked in and will be escorted to their table.
Bar service
• There will be no walk-up bar service permitted during the event.
• Table service will be available throughout the show.
• No cash payments will be accepted- debit/credit only.
• Guests are welcome to run a tab throughout the show and pay at the end or can pay in individual transactions.
• Plastic glassware will be used for all beverage services to avoid any unnecessary contact with staff.
There is an accessible washroom on the main floor.