Animology- New Artworks by Peter Rowe- reminder to RSVP for Opening event
Description
You're invited to view artworks by Peter Rowe
during the Opening event for his exhibition and sale: Animology
Visitors will experience a new side to Peter's creative expression in these whimsical and vibrant mixed media works. His continuing concerns for nature and the environment are expressed in a unique and imaginative way, not previously seen quite this way in his well known photography and film-making.
Peter will be present at this meet & greet event, where his mixed media and electronic images will be displayed.
The Show continues to April 21.
for more information, contact: peter@peterrowe.tv
or Artify curator, Susan Brown: artistsgarden@gmail.com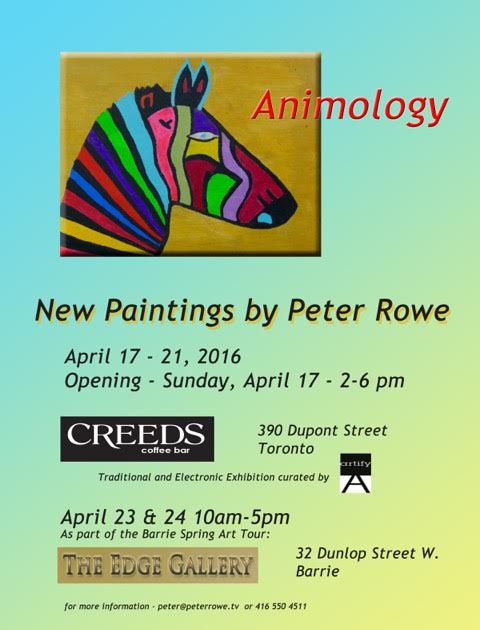 "The show, titled "Animology", looks at our relationship with animals in different ways – some whimsical, others sober. ….
In 2012 I decided I wanted to paint. I decided to get some training at Visual Arts Mississauga. I drove out to their address – also on Mississauga Road - and as I approached I realized to my amazement that they were situated in the very barn, house and out-buildings that I had spent a summer in 50 years earlier."
- Peter Rowe
The show continues at Creeds to Thursday, April 21, then moves to The Edge Gallery in Barrie, where it plays April 23 and 24 from 10 am to 5 pm.
A catalogue of the paintings is at:
http://www.mixbook.com/photo-books/interests/animology-13488941?vk=mK4wXkUjgU
Rsvps welcome at Eventbrite
or to Artify- artistsgarden@gmail.com
For more information: peter@peterrowe.tv
416-550-4511