Description
2018 is the year of IMAGINE
Imagine the possibilities.
Imagine a world where thousands of missions have been achieved.
Our job is to bring these incredible human beings together.
About Archangel [ARK-Angel] Summit
Archangel Summit is the annual gathering of mission-driven entrepreneurs, leaders, and professionals who want to do well by doing good.
Our attendees have a calling to do something bigger and have aspirations to build their perfect life & perfect calendar. They are looking for mentors and for inspiration to motivate them to take action, and to develop more tactical skills.
The Speakers

Arlene Dickinson is one of Canada's most renowned independent marketing communications entrepreneurs. As CEO of Venture Communications, her creative and strategic approach has turned the company into a powerhouse with a blue chip client list. She is also the CEO of District Ventures Capital, a fund investing in Canadian companies in the food and health sectors. Dickinson is best known to Canadians as one of the venture capitalists on the award-winning series Dragons' Den, an investor on The Big Decision, and a judge on Recipe to Riches. She is the author of two bestselling books --Persuasion, and her most recent bestselling release, All In.

Sally Hogshead is the creator of the Fascination Advantage®, the first personality assessment that measures how others perceive you. After researching over one million people, her algorithm can pinpoint your most valuable differentiating traits. Her recent book, "FASCINATE: How to Make Your Brand Impossible to Resist" was a New York Times bestseller. Her previous book, "HOW THE WORLD SEES YOU", was a #1 Wall Street Journal and New York Times bestseller. Sally frequently appears in national media, including NBC's TODAY and the New York Times. She has repeatedly been named a Global Brand Guru and is one of only 200 professional speakers since 1977 to be inducted into CPAE Speaker Hall of Fame®, the industry's highest award for professional excellence.

Brendon Burchard is the world's leading high performance coach, the most requested motivational speaker of his generation, and one of the most-watched, quoted and followed personal development trainers in history.
He is also a #1 New York Times bestselling author and in the Top 100 Most Followed Public Figures on Facebook, with over 10 million fans across his pages. A #1 New York Times, #1 Wall Street Journal, and #1 USA Today best-selling author, Brendon's books include High Performance Habits, The Motivation Manifesto, The Charge, The Millionaire Messenger and Life's Golden Ticket. His book The Motivation Manifesto is the bestselling title on motivation of this century so far. As one of the most requested motivational speakers in the world, Brendon has shared the stage with the Dalai Lama, Sir Richard Branson, Tony Robbins, Arianna Huffington, and many of the leading influencers of this era.



JP Sears is a YouTuber, emotional healing coach, author, international teacher, performer, speaker at events, world traveler, and curious student of life. His work empowers people to live more meaningful lives. JP is the author of "How To Be Ultra Spiritual," (Sounds True Publishing). He is very active with his online videos where he encourages healing and growth through his humorous and entertainingly informative videos, including his hit Ultra Spiritual comedy series, which have accumulated over 250 million views. You can learn more about JP and his work at AwakenWithJP.com


Dandapani is a Hindu priest, speaker on self development and an entrepreneur. For 10 years he lived a life of serious personal discipline and training at his guru's, Sivaya Subramuniyaswami, cloistered monastery in Hawaii. When his vows expired seven years ago he chose to venture out into the world on his own. He made New York City his new home, determined to live and practice himself everything he teaches in the most invigorating and challenging city in the world. He works with a variety of individuals, companies and organizations around the world conducting training through workshops, retreats and exclusive coaching circles.
More speakers for 2018 to be announced soon!

Past Archangel Summit speakers and performers include Simon Sinek, Seth Godin, Akon, Gary Vaynerchuk, Gretchen Rubin, Robin Sharma, JJ Virgin, Danielle LaPorte, Lewis Howes, Daymond John, Natalie MacNeil, Philip McKernan, Dan Martell, Jadah Sellner, Jayson Gaignard, Dr. Shefali Tsabary, Jim Kwik, Nicole Arbour, Nicholas Kusmich, Marc Kielburger, Angela Lauria, Dr. Stephanie Estima, and Giovanni Marsico.
Our speakers cover a mix of topics pertaining to personal and professional development. Past topics have included lead generation, mindset, sales and marketing, building habits, creating business systems, health and wellness, how to build a tribe, and how to leverage your network to create impact.
Tickets

Ticket Descriptions

Archangel VIP

Admission to Archangel Summit 2018
Complimentary Access to the official Archangel Summit Afterparty
First come/first served seating in your ticket section
Separate VIP Registration Area
VIP Gift Bag
Access to the private Archangel Connection Lounge during breaks with all day coffee, tea, snacks
Exclusive Catered Lunch with Speakers in the Archangel Connection Lounge
Exclusive Catered Dinner with Speakers in the Archangel Connection Lounge
Access to video replays from all presentations after the event
Angel Ticket
Admission to Archangel Summit 2018
Access to the official Archangel Summit Afterparty
First come/first served seating in your ticket section
Gift Bag
Access to video replays from all presentations after the event
General Admission

Admission to Archangel Summit 2018
Access to the official Archangel Summit Afterparty
First come/first served seating in your ticket section
Seating Map
* Please note, this map is not to scale and is for reference only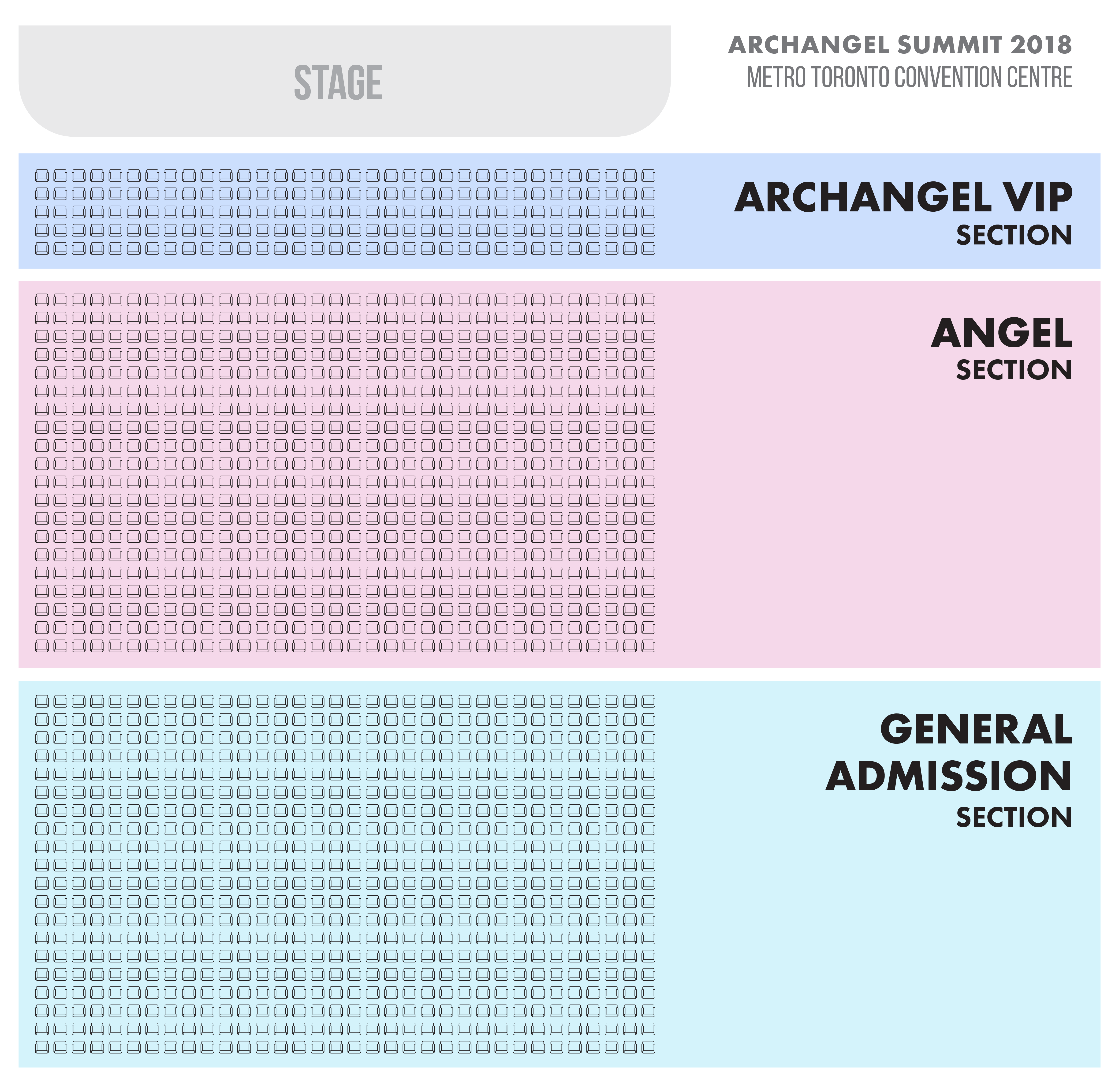 The Venue
Archangel Summit will take place on Saturday, September 8th 2018 at the Metro Toronto Convention Centre, South Building 222 Bremner Blvd, Toronto Ontario.
The Schedule
Below is a sample agenda. This is NOT the final agenda for Archangel Summit.
You will receive the final agenda upon registration check-in.

7:00 AM - 8:30 AM Registration
8:30 AM - 9:45 AM Morning Session #1
9:45 AM - 10:15 AM Break
10:15 AM - 11:35 AM Morning Session #2
11:35 AM - 1:00 PM Lunch
1:00 PM - 2:35 PM Afternoon Session #1
2:35 PM - 3:05 PM Break
3:05 PM - 5:00 PM Afternoon Session #2
Afterparty time & location TBD
Refund & Transfer Policy
Refunds are only available up until 60 days prior to the event. After that date, you can transfer a registration for the same conference to another person by sending an email to support@archangelsummit.com. Your request needs to be sent in by August 31, 2018 to be eligible. You may only transfer your ticket to the next year one time.
Additional Information
For more information about our speakers and a full list of FAQ (including information on local accommodations, tickets, speakers, or how to become a sponsor or volunteer) please visit www.archangelsummit.com