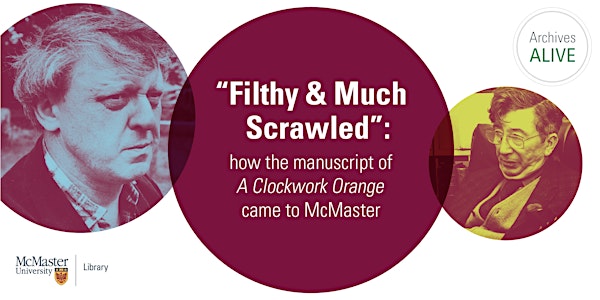 Archives Alive: "Filthy & Much Scrawled"
"Filthy & Much Scrawled": how the manuscript of A Clockwork Orange came to McMaster
When and where
Location
Lewis & Ruth Sherman Centre for Digital Scholarship Mills Memorial Library 1280 Main Street West Hamilton, ON L8S 4L8 Canada
About this event
Anthony Burgess' 1962 novel, A Clockwork Orange, is now one of the most famous and infamous books of the 20th century, though it did not become well known until after the 1971 release of Stanley Kubrick's movie version. Four years before the movie, McMaster University Librarian William Ready had the foresight to acquire the manuscript of the novel from Burgess for deposit in the University Library. The story of that acquisition is really the story of the relationship between these two men of very similar backgrounds and sensibilities. Please join Rick Stapleton (Head, Archives and Research Collections, McMaster University Library) as he traces that relationship from their first meeting in 1966 to Burgess' learning of Ready's death in 1981. Along the way you'll see excerpts of letters between the two and, of course, images of the 'filthy & much-scrawled' manuscript of A Clockwork Orange.
Speaker
Rick Stapleton has been at McMaster University Library since 2007 and is now Head, Archives and Research Collections. Prior to McMaster, he has held positions with the University of Toronto Archives, the Archives of Ontario, and the United Church of Canada Archives.
Parking
Complimentary parking will be provided. To receive complimentary parking, please park in any lot except for Lot A.