A Conversation about Anti-Blackness: A Dialogue for self-identified East and South East Asians
About this event
Are We Complicit? Join us for a conversation where we'll be discussing anti-Blackness among East and South East Asian communities and how this can perpetuate anti-Black racism in Canada. By examining our own struggles against white supremacy and colonialism, this webinar will explore how anti-Asian racism intersects with anti-Black racism.
From interrogating the model minority myth to unpacking tensions between racialized communities, our collective path to social, economic, and political justice is tied to Black liberation, Indigenous rights, and decolonization. Mulitracial organizing has led to strong advances to equity and at this pivotal time, Asian solidarity with the Black lives movement is critical in order to collectively dismantle white supremacy and its systems of oppression.
Asian communities must ensure that in our struggles against racism e.g. anti-asian racism, we are committed to collective liberation to dismantle historical and structural foundations of systemic racism that is complicit within white supremacy, and colonialism in Canada, and not reinforcing racial hierarchies that may pit communities against one another.
Featured speakers:
Dr. May Farrales, Assistant Professor at Simon Fraser University
Amy Go, President of the Chinese Canadian National Council for Social Justice
Victoria Yeung, Program Coordinator at the Chinese Canadian National Council for Social Justice
Monica Urrutia, Member of the Asian Canadian Labour Alliance
***NOTE: This is a focused webinar discussion organized for community members who self-identify as East and Southeast Asian.
This event is co-sponsored by the Asian Canadian Labour Alliance, Chinese Canadian National Council - Toronto Chapter, Chinese Canadian National Council -Social Justice, Asian Canadian Educators' Network, TYRLC Chinese Workers' Network
Closed captioning for the webinar will be available here. To obtain an accessible format poster, please contact info@aclaontario.ca.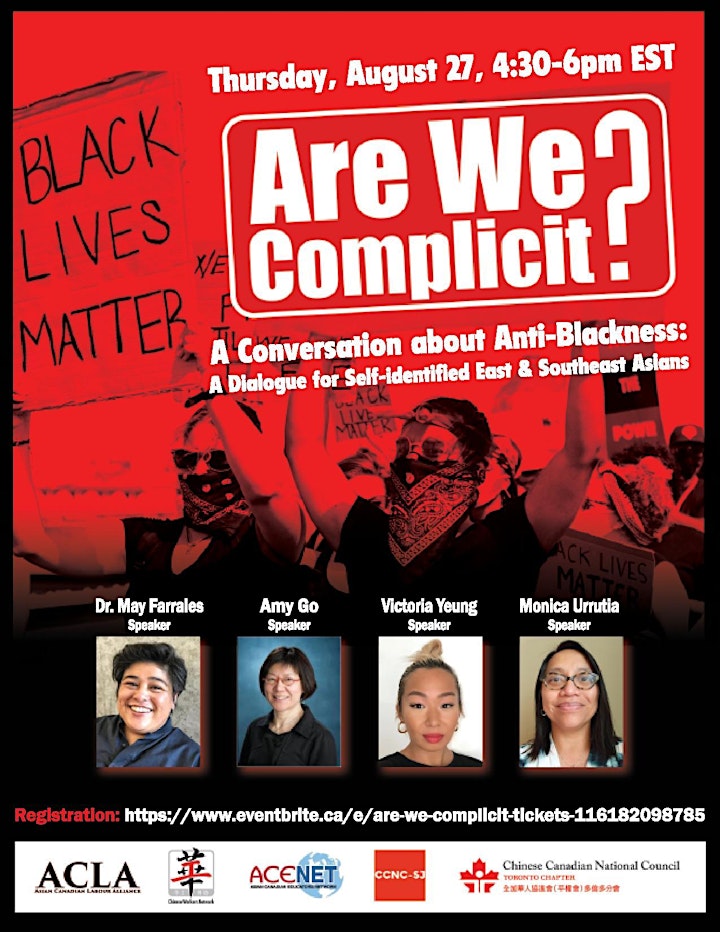 Organizer of Are We Complicit?
The Chinese Workers Network provides a safe forum and venue for Chinese union members and non-union members to talk about improving the conditions of work for Chinese-Canadian workers, and to advocate for concrete improvements in workers' lives.  The CWN aims to represent the voices of Chinese-Canadian workers in advocating and tangibly improving the conditions of work in the 21st century where so many workers face precarious and unsafe work.
The Asian Canadian Labour Alliance (ACLA) is a volunteer based labour-community activist group focused on anti-racism, building equity in the labour movement and strengthening the connections between labour and racialized communities.