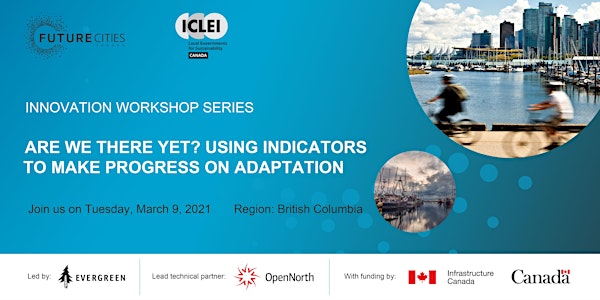 Are We There Yet? Using Indicators to Measure Progress on Adaptation
A BC focused innovation workshop centred around how to measure progress on climate adaptation and resilience.
About this event
The Community Solutions Network is a program of Future Cities Canada, and is designed to help communities build service area capacity and improve the lives of residents using data and connected technology approaches. ICLEI Canada along with Evergreen and the Community Solutions Network are partnering to deliver a series of innovation workshops on the relationship between data, technology and climate resilience.
This workshop will provide an opportunity for municipalities, Indigenous communities, municipal networks, academics, and subject-matter experts from across British Columbia to connect, share, and ask questions around approaches to measuring progress on climate adaptation and resilience.
Through a presentation and a hands-on activity, together we will explore questions such as:
What are examples of performance metrics that can be used to measure your communities progress on adaptation and resilience?
How might you evaluate an indicator? And what qualifies as a 'good' indicator?
What are possible issues related to data (e.g. requirements, limitations, availability) that might affect your ability to measure progress?
A more rigorous approach to evaluate our progress on adaptation is needed so that we can support informed decision-making, course correct for continuous improvement, and ultimately enhance our collective climate resilience. Be a part of the conversation and register today!
Draft Agenda
10:00 – 10:15 am: Welcome and Introductions
10:15 – 10:35 am: Measuring Progress on Adaptation: Using Indicators and Other Performance Metrics - Presentation and Q&A
Speaker: Deborah Harford, Executive Director, ACT - Simon Fraser University
10:35 – 11:45 am: Breakout Room Activities
Part One: Selecting a 'Good' Indicator
Part Two: Identifying Data Requirements
11:45 – 12:00: Group Discussion and Workshop Wrap-up
Speaker bio
Deborah Harford is the Executive Director of ACT (the Adaptation to Climate Change Team), based in the Faculty of Environment at Simon Fraser University (SFU). Deborah co-founded ACT in 2006 with the goal of exploring policy options and developing resources for adaptation to a range of climate change impact areas, including water, food, health, biodiversity, energy, infrastructure, and population displacement. Deborah is responsible for development of ACT's pioneering work on low carbon resilience and formation of the Integrated Climate Action for BC Communities Initiative (ICABCCI). She recently served as a member of the Council of Canadian Academies expert panel on Top Climate Risks for Canada and is a member of the expert adaptation panel for the new Clean Growth and Climate Institute.