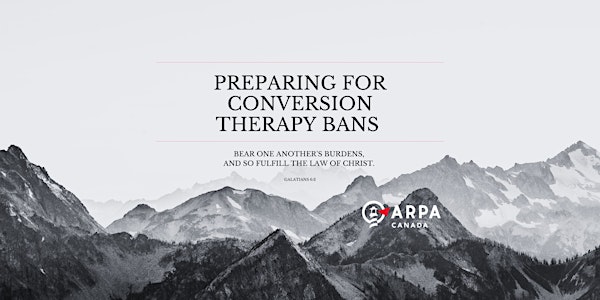 ARPA Canada: Preparing for Conversion Therapy Bans - Aldergrove, BC
Levi Minderhoud, André Schutten, and Jojo Ruba present on what preparing for conversion therapy bans looks like for your community.
Date and time
Saturday, March 26, 2022 · 7:30am - 12pm PDT
Location
Canadian Reformed Church of Aldergrove 26655 24 Ave Aldergrove, BC V4W 2Y2 Canada
About this event
Preparing for Conversion Therapy Bans in Canada
Now that Bill C-4 has officially passed through Parliament and signed into law, ARPA Canada invites you to two presentations designed to help you prepare for how this troubling law might impact your community.
This will be a practical training event tailored to church office bearers and pastors, building off Friday's information evening. They seek to:
Assist elders and pastors to respond well to church members with questions about sexual ethics and/or identity
Help elders and pastors speak about issues of sexual ethics and personal identity in ways that are Biblically sound and that are aware of political and legal sensitivities
Provide advice for pastors regarding the manner in which they can address sensitive issues in their sermons
Help churches to formulate, develop, and adapt church policies
Breakfast will be served at 7:30, courtesy of the co-sponsor, the Reformed Bible College, and the training sessions will run from 8:00 - 12:00.
We hope to see you there!