Gabriel Fine Arts proudly present the second chapter of exhibition Art and Emotion at Shapero Modern in Mayfair.
About this event
Private View: Tue 5th November 6-8:30pm
Piano Performance by David's Pianosound
'The artist who paints the emotions creates an enclosed world... the picture...
which, like a book, has the same interest no matter where it happens to be.'
(Pierre Bonnard)
Art goes beyond the surface, the simplistic and one-dimensional. It is a portrait and exploration of emotion itself. With this selection of international artists Gabriel Fine Arts explores the hidden depth to the mediums. Each individual artist depicts emotion within their work while triggering the emotion of the viewer. The artwork itself acts as a conversation of emotion between the artist and audience.
Featured Artists: Tamera Bedford, Tony Fandino, Nic Gotch,
Mira Corbova, Lalage Florio, Kiskeia Garcia, Antonia Glynne Jones,
Marisol Grijalva, Elena Dobrovolskaya, Elena Lichtsteiner,
Jasmin Leer, Saverio Lucci, Maya Mekira, Elise Mendelle,
Mari Nishimura, Stephan van Riezen, Charles Sucsan,
Milan Svanderlik, Sonja Vishnud, Huiping Yang
and Crystel Ybloux.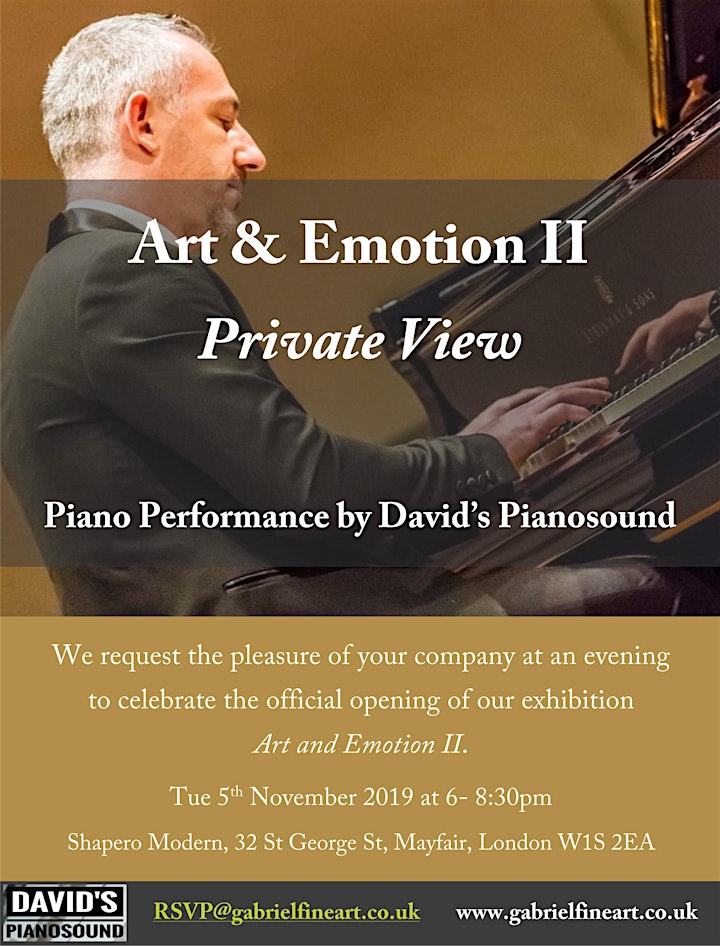 Organizer of Art and Emotion II
Gabriel Fine Arts Ltd are London-based art dealers and event organisers. The company specialises in event management for both corporate and private clients. 
Gabriel Fine Arts presents carefully selected exhibitions of Art and organise shows for talented and respected artists throughout the year. 
With their head office based 10 minutes walk from the Canary Wharf business district Gabriel Fine Arts are one of the leading art events organisers in the UK.