Event Information
Location
Bilston Creek Farm
4185 Metchosin Road
Victoria, BC V9C 3Z5
Canada
Artist Appreciation event and Celebration of the launch of Metchosin ArtPod and Metchosin Foundation's Mushroom Art Nature Deck (2022)
About this event
You are invited to an afternoon at the stunning Bilston Creek Farm for the Deck Unveiling and Artist Appreciation Event, taking place on Sunday 15 May from 12-2:30. Mark your calendars! This beautiful lavender farm and orchard once again opens its arms to us as they did 2 years ago at the start of Covid for our first bird deck— then, as now, we are so lucky!
Our event coincides with the summer opening of Bilston Creek Farm's wonderful outdoor pizza oven, available with other concession offerings and the farm's retail store. Be sure to prebook your pizza online at: Bilston.ca before the event! Come meet the incredible artists who created this year's deck. Hear some mushroom stories from lead naturalists and best-selling authors Kem Luther and Andy McKinnon. Take in the mushroom show and tell table and ask the naturalists your burning mushroom questions (bring a mushroom and try to stump them!). Wander the grounds looking for the 36 hidden mushroom illustrations. Tick them off your personal mushroom checklist, then enter your finished list in a draw for prizes! Visit Bilston Farm's lovely gift shop which features locally harvested lavender and honey infused treats, among other local hand-made items. Purchase a refreshing drink from Bilston's outdoor drink stand. Pick up your own art card deck (selling for $25 each)— maybe get your favourite artist to autograph their mushroom! *There will be a group photo shoot for participating artists at 1pm!*
Why: Art Nature Cards: MUSHROOM Deck "Unveiling" and Artist Appreciation Event
Where: Bilston Creek Farm, Metchosin
When: Sunday 15 May, 12-2:30pm but Bilston will be making (pre-ordered) pizza until 5:30pm
Who: Artists, families and friends, members of Metchosin Foundation, Metchosin ArtPod, and the adoring and enthusiastic public
What to bring: Weather appropriate clothes, a camera, a blanket to sit in the orchard and eat your pizza, a vexing mushroom!
What not: Please, outside food is not allowed on the premises during weekend events.
(Image by Dana Nygard, one of the 36 artists who participated in this community-building project)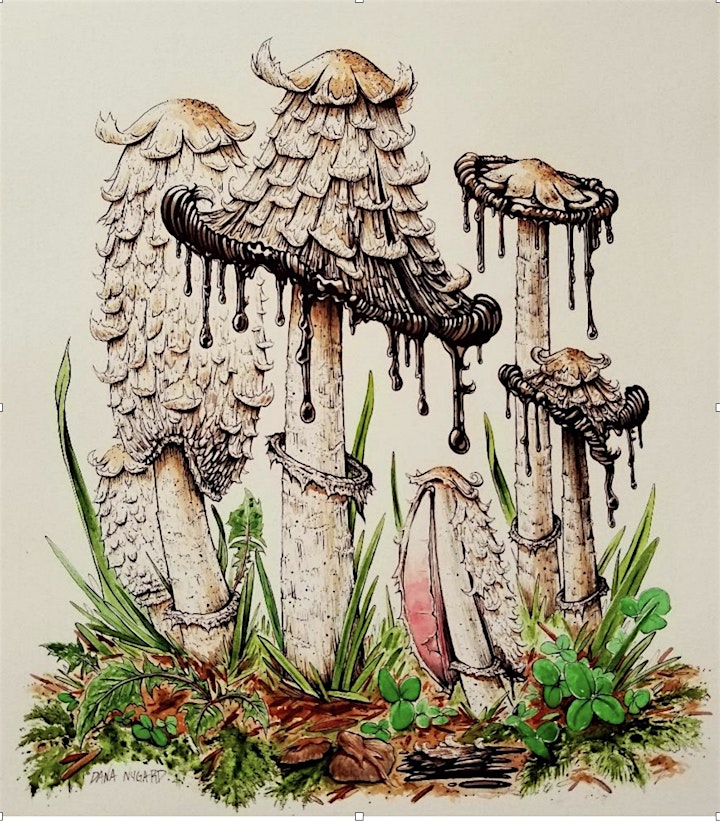 Date and time
Location
Bilston Creek Farm
4185 Metchosin Road
Victoria, BC V9C 3Z5
Canada