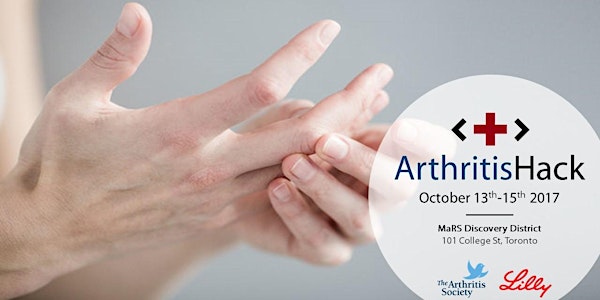 Date and time
Fri, Oct 13, 2017 6:00 PM - Sun, Oct 15, 2017 6:00 PM EDT
Location
MaRS Discovery District 101 College St Toronto, ON M5G 1L7
Refund Policy
Refunds up to 7 days before event
Description
Calling all hackers, designers, developers, engineers, and persons with lived experience! The Arthritis Society with the support of Eli Lilly Canada has partnered with Hacking Health Toronto to host a hackathon - ArthritisHack.
What's the problem?
More than 5 million Canadians living with arthritis face chronic joint pain, stiffness, swelling and persistent fatigue that pose serious challenges to daily life, work functioning, even mental health.
Arthritis can strike anyone at any time, regardless of age, physical condition, or background. There is no cure, and if left untreated arthritis can quickly lead to restricted mobility, irreparable joint damage and a greatly reduced quality of life.
For some forms of the disease such as Rheumatoid Arthritis, treatments are available to help curtail the worst of the inflammation that leads to joint damage. For others, like Osteoarthritis, lifestyle changes can help prolong function and reduce pain, but there's no real treatment, so you're left waiting for your joint to get so damaged that you need to have it surgically replaced. Whatever kind of Arthritis you have, existing treatments don't fully address patient needs.
Why? Physicians are focused on treating inflammation, while patients are more focused on how the disease impacts their quality of life. And while they appreciate and value the support of their health care providers, patients have important lifestyle needs that are largely unmet in the current clinical setting – needs that can impact the progress of their disease, severity of symptoms and overall health.
What is ArthritisHack?
ArthritisHack is a weekend-long hackathon that breaks down barriers to healthcare innovation. ArthritisHack will bring together healthcare professionals, IT professionals, designers, policy analysts, entrepreneurs, and most importantly - PEOPLE WITH ARTHRITIS to collaborate, dream up and produce solutions to empower people living with Arthritis in all aspects of care and life.
Please consult the list of themes below and sign-up to add your idea or join a team on our Sparkboard. We understand that you are excited to solve problems but please refrain from developing the solution before the hackathon. Feel free to ideate, design, post, update, review, join or start a project on Sparkboard!
At ArthritisHack, you will build prototypes for your ideas, so that they can be tested to potentially transform healthcare. We are excited to have The Arthritis Society consider your successful projects for pilot opportunities. Other projects will move on to become viable startups — and that's how together we can create impact!
Do you have business/healthcare/design/other expertise, we want to hear about it! Sign-up HERE to become a mentor.
Themes for ArthritisHack
ArthritisHack's overarching theme is: Innovative Thinking, Empowering Solutions: How can we help people overcome the challenges of living with Arthritis in all aspects of care and life?
Here is a list of ways you can focus your solution:
Communication
Communicating with the health care team, family and friends about their disease can be a challenge for many people living with Arthritis. They can feel disempowered and unable or unwilling to engage in a complete discussion of how their disease is impacting their life. They can't assume that relevant information like blood test results, x-rays, etc. are being shared between different members of their health care team without their direct involvement. People living with Arthritis may also feel like their experiences are not acknowledged nor validated by their health care team.
As people with Arthritis are the coordinators of their own care, how can we empower them to:
effectively prepare for and communicate constructively at appointments with members of their health care team;
talk about their condition and their needs (symptom management including pain level, fatigue, medication, anxiety, depression etc. and functional deficits) in a way that will be helpful in guiding their health care team in the joint development of appropriate and effective treatment plans;
ensure that relevant information is shared between members of their health care team in a timely and efficient manner;
participate more fully with their health care provider(s) in shared decision-making around their treatment plan.
Emotional health
When people living with arthritis are in pain, they often experience depression, anxiety and other emotional issues that can interfere with their ability to appropriately manage their arthritis, thereby impacting their overall quality of life.
How can we empower people with Arthritis to:
be conscious of and accurately evaluate reflect on their own emotional and mental health;
access mental health supports and resources;
learn and apply self-management techniques and strategies to improve their mental health;
overcome isolation.
Arthritis at work
Most of us spend a significant amount of time of our life "at work", whether it's paid or unpaid, physically demanding or not. Since two-thirds of Canadians with arthritis are of working age, it makes sense that they should learn what they can do to protect their joints at work.
How can we empower people with Arthritis to:
properly assess their work environment for potential activities or tasks that could cause joint damage and limit their activities;
learn about the different accommodations that would modify their work set up and help them work more safely and efficiently at the same time;
enhance their communication/self-advocacy skills with co-workers and employers regarding the impact of their disease and unique work/care requirements;
plan their work and lifestyle to maximize their productivity at those times when they are at their best.
Surprise us!
Hack on any ideas you have as it relates to improving the quality of life of people living with Arthritis.
Networking Cafés
If you need more inspiration or would like to meet other people to form a team. The Arthritis Society and Hacking Health will be hosting TWO networking cafés where we will be inviting people living with arthritis to talk about their issues and gaps within our healthcare system.
First networking café - Wednesday, August 23rd @ Centre for eHealth Innovation
Second networking café - Wednesday, September 27th @ The Arthritis Society - National Office - CLICK HERE TO JOIN OUR MEETUP
---
ArthritisHack Event Schedule
We have an incredible weekend lined up for you. Our weekend hackathons are fun, intense, hands-on events where small teams tackle tough problems in a supportive community of peers and mentors. All meals will be catered for you this weekend - on us! Our full schedule will be available shortly. To give you an idea, however, here is a high-level schedule:
October 13, 6pm-10pm - Friday evening is about pitching ideas and challenges – and finalizing the teams around those ideas and challenges. We will also have a few speakers to inspire and motivate you for what's ahead.
Keynote speakers:
Bill Charnetski, Chief Health Innovation Strategist, Ontario Ministry of Health and Long-Term Care
Dawn Richards, Vice President, Canadian Arthritis Patient Alliance
Fraser Ratchford, Group Program Director, Consumer Health & Innovation, Canada Health Infoway
October 14, 8am-11pm - Saturday is about working together to bring your idea to life. We will have mentors and end users available to help advise your project team as you work to flesh out your proposed solution.
October 15, 8am-6pm - Sunday is about demonstrating your innovative solution, getting feedback from a friendly panel and vying for a ton of prizes, and invaluable connections! Prototypes must be completed by 3:30pm!
---
Awards
By participating in the hackathon, you are donating your time to make an impact. And your efforts shall be rewarded!
Not only can your team win up to $5000 in cash, we are securing a list of various awards and prizing evaluated at over $10 000 to jump-start your idea and get it closer to implementation in the real world.
Judges
Janet Yale, President & Chief Executive Officer, The Arthritis Society
Lisa Matar, President and General Manager, Eli Lilly Canada
Vandana Ahluwalia, Rheumatologist, President-Elect of the Canadian Rheumatologist Association
Annette McKinnon, Patient advocate, Patient Partners/Canadian Arthritis Patient Alliance
James Agnew, Lead Architect & Developer Wrangler, Centre for Global eHealth Innovation (UHN)
Christina Wong, Director, Public Relations, Canada Health Infoway
---
FAQs
What if I don't have the financial means to pay the registration fee?
We want to enable as many people as we can to participate in our hackathon. So if you cannot pay for a ticket, email us at toronto@hackinghealth.ca and we'll figure out a way to get you involved.
Where can I find a team?
People sometimes come with teams already made so you can start by asking around in your network. Before the hackathon, you can also consult our Sparkboard page or come to one of our cafes. If you still do not have a team, no worries! There will be an opportunity for you to mix and mingle so you can find one on Friday night.
Do I need to find a person with lived experience?
If you cannot find a person with arthritis to join your team, let us know and we will happily provide one for you.
Who owns the IP?
Great question! Hacking Health does not make any claims to Intellectual Property that emerges from the event. By participating in the hackathon, you are agreeing to donate your time to the project, but if you choose to continue post-hackathon, then your team should discuss IP ownership as soon as possible before moving forward (in most cases, it is more beneficial to just get paid for any work to be completed post-hackathon instead of negotiating IP ownership). Please remember that the Arthritis Society will have first right of refusal to use your prototype if you are one of the winners.
Do I have to attend the full hackathon to join a team?
YES! Before you apply and register, ensure that you are available during the whole weekend to support your team full-time during the hackathon. It's only fair to your peers.
What's the refund policy?
Paid tickets can be refunded up to 7 days before the hackathon.
Do I have to bring my printed ticket to the event?
No, you can simply show us a digital copy if you wish.
Can I update my registration information?
Yes, if you make a mistake simply update the information and let us know at toronto@hackinghealth.ca.
Is my registration fee or ticket transferrable?
No, because you will be part of a team, tickets are only valid for the person's name on the ticket.
Who is The Arthritis Society?
The Arthritis Society, which is the largest non-government funder of arthritis research in Canada, has invested close to $200 million to find answers and discover a cure for arthritis. Sustained efforts by The Arthritis Society have led to significant advancements in the diagnosis, treatment, and care of people with arthritis.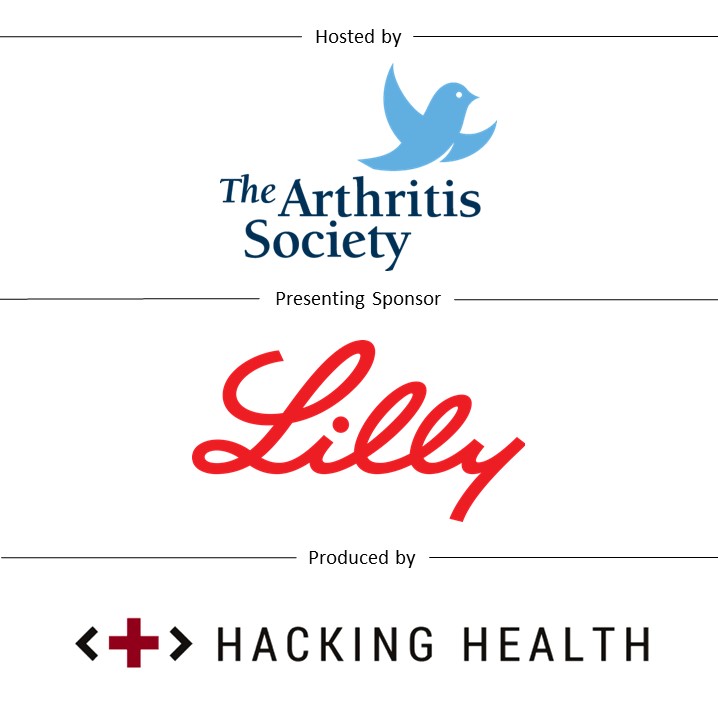 Sponsors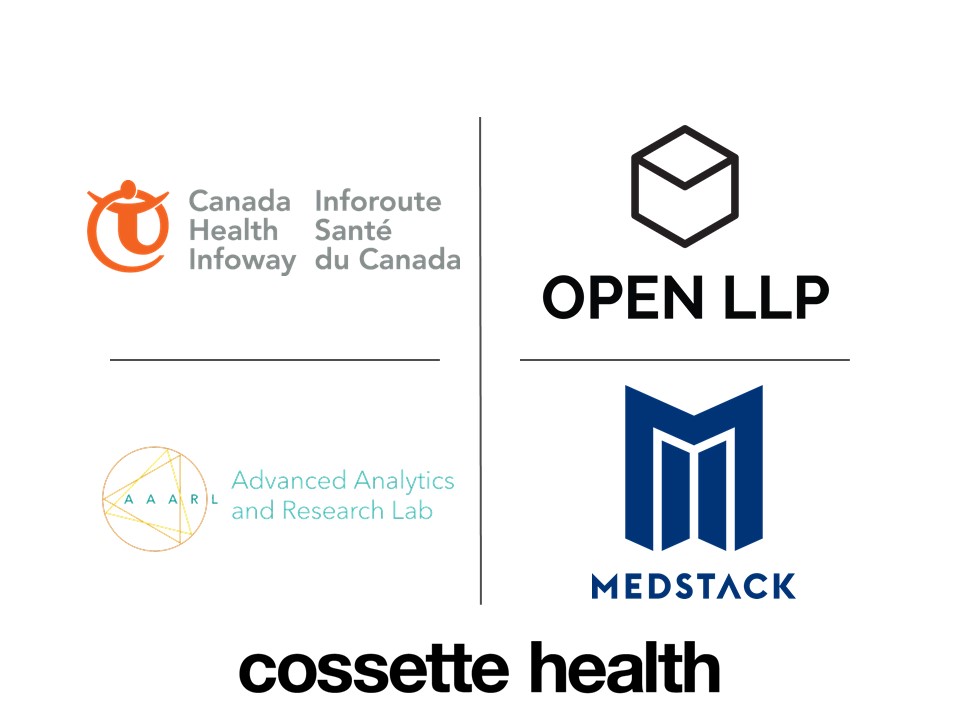 About the organizer
Hacking Health is an international movement designed to improve healthcare by inviting technology creators and healthcare professionals to collaborate on realistic, human-centric solutions to front-line problems. Learn more about Hacking Health here.